FROM CNN's Jack Cafferty:
As millions of Americans head into a long weekend and the unofficial start of summer, consider this: About 28 million Americans, that's a quarter of the work force, don't get any paid vacation. Enter Florida Congressman Alan Grayson - who has introduced the Paid Vacation Act.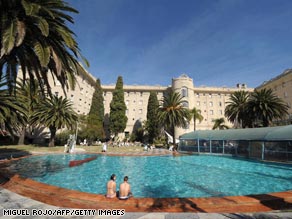 The bill would require companies with more than 100 employees to give a week of paid vacation to both full-time and part-time workers who've been with the company for a year. Once the law is in effect three years - they'd have to give two weeks of paid time off; and companies with more than 50 employees would have to give one week vacation.
Grayson, a Democrat, says his bill would double the number of paid vacations in the U.S. It's also meant to increase worker productivity by having fewer sick days, and to boost tourism - hey, he's from Florida after all.
Grayson points to other countries where paid vacation is a matter of right. Turns out the U.S. is last among 21 industrial countries when it comes to mandatory vacation time; France requires companies to give 30 days of paid leave.
No surprise that the travel industry is all for this bill; but small business advocates say mandatory vacation time could be a disaster for smaller companies, making it unaffordable for them to do business. Some Republicans are against the idea too, saying: "A one size fits all federal mandate is the wrong medicine in troubled economic times."
Here's my question to you: Should paid vacation time be mandatory?
Interested to know which ones made it on air?
Richard from Kansas writes:
No, Jack, let's just keep sticking it to the little guy and hope he never realizes how bad he's getting screwed. After all, if we gave him a vacation, where would it end? Next he'll want a wage he can live on, a safe work place, health care coverage, and some hope of retiring before he drops dead at his work station.
Mike from Syracuse, New York writes:
Jack, Interesting that you mention France. The work rules there are pure socialism. Of course, at the rate Obama is having the government buy up U.S. industry, we're well on that path. Next every worker will have the rights of civil servants and we will collapse under our own inefficiency.
Molly from Texas writes:
It should be, especially with larger companies, universities and government entities. The small businesses should be exempt according to the number of employees.
Nancy from North Carolina writes:
I am a small business owner still struggling to try and get insurance for my employees. That's assuming we can maintain enough business to stay open. Adding a mandatory paid vacation to my already overburdened budget would be the last straw.
Sharon writes:
It should be mandated that businesses give employees some paid vacation. We are not a third world country (yet) and every other Western country realizes the importance of giving people time off. It is good for everyone's mental health, not to mention the so-called "family values" that the right is always screaming about.
Jonathan from Bridgeport, Connecticut writes:
If Congress and the president are given time off, it's only fair for those who pay their salaries to have the same "luxury."
Kyle writes:
Excellent! A mandatory paid vacation means I can pick up more hours at my second job.