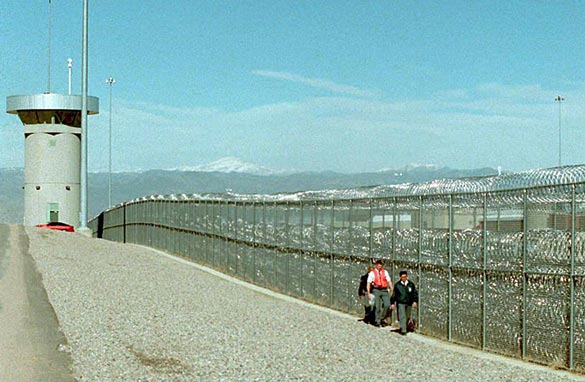 File photo of the super maximum security federal prison in Colorado. The fortress-like super-prison is dubbed "Alcatraz of the Rockies," and houses several terror convicts. "Supermax" is tightly controlled, technologically advanced, and designed to be impossible to escape. (PHOTO CREDIT: BOB DAEMMRICH/AFP/Getty Images)
FROM CNN's Jack Cafferty:
President Obama says some terror suspects from the Guantanamo Bay detention facility will be sent to U.S. prisons.
Despite opposition from Congress, the president is moving forward with his plan to close Gitmo by next January. He insists that he won't authorize freeing any detainees who would endanger the American people, but says some of these suspects will be tried in U.S. courts and held in super-maximum security U.S. prisons. The president says other detainees could be tried by military commissions and sent to other countries.
Congress has dealt President Obama a big blow by blocking funds to close Gitmo until he comes up with a detailed plan on what to do with the 240 detainees held there. Majority Whip Senator Dick Durbin is one of the few who voted against blocking the 80 million dollars. He says the U.S. can safely house these terror suspects just like we are already housing 348 convicted terrorists in U.S. prisons.
Durbin says Guantanamo has become a symbol and an organizing tool for terrorists; and it's not helping us win friends in the war on terror. He points out that we can't exactly ask our allies to take in these detainees when we're not willing to do the same.
Nonetheless Republicans continue to argue that the president's plan could endanger Americans. Former Vice President Dick Cheney says that President Obama's reversal of Bush-era detainee policies is "recklessness cloaked in righteousness" that will make the U.S. less safe.
Here's my question to you: Do you have a problem with housing Gitmo detainees in U.S. prisons?
Interested to know which ones made it on air?
Terri from San Luis Obispo, California writes:
Jack, Instead of sending the convicted detainees to places like the "Alcatraz of the Rockies" - reopen the real Alcatraz. Let the inmates do repair work and clean the place up. Provide 3 squares a day (doesn't have to be gourmet) and necessary medical care. No bypass surgeries or kidney transplants, etc… No TVs and no air conditioning. Give them plenty of time to think about what America's freedom from terror means to us.
Ralph from Chicago writes:
Give Guantanamo back to Cuba and leave the detainees there. Castro gave us his detainees a few years ago when he cleaned out his jails; now it's our turn.
Lance from Ridgecrest, California writes:
Yes, I am completely against this plan. This is all we need: trained terrorists housed with career criminals so they can pass on their warped view of the world and the country to malcontents... Couple this with the obvious instant engagement of the ACLU to release these terrorists into the public because we are ignoring their rights, and the country WILL pay a huge price for this stupidity.
Bill from Phoenix writes:
I'm surprised that we don't see the current game here. The administration will return lesser-known detainees to their countries of origin and then ship the ones for whom release would be politically unsustainable to U.S. federal facilities, with the full knowledge that this will result in their release based on subsequent court orders. If they could have been detained in the U.S., that would have been the original disposition. Gitmo was chosen because it was outside the scope of all national legal systems.
Peter from Stockbridge, Georgia writes:
No, I don't have a problem with it. What I have a problem with is the gullibility of so many Americans that allows them to be ruled by the politics of irrational, illogical fear. Scare tactics are truly the only arrow left in the Republicans' quiver, but it continues to be extremely effective with some segments of our population.
D.M. writes:
I don't have a problem with them living in one of those Super Max Prisons. You don't think they'd "radicalize" the fine folks living there, do you?