FROM CNN's Jack Cafferty:
It's that time of year again - graduation season. But this year's crop of college graduates is looking for jobs in the worst economy their generation has known. Not exactly the best time to job search when 5.7 million people have been out of work since the recession started.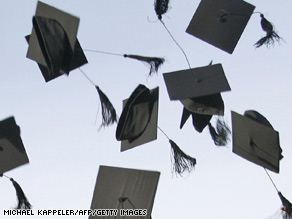 An AP-mtvU poll surveyed more than 2,200 college students on 40 campuses and found some recent college grads on food stamps; and other undergraduate students working three jobs while attending school full-time.
The poll also shows:
– 22 percent of students say they worry a lot about having enough money to get through the week; and one-third say they really worry about their parents' finances.
– Almost 20 percent changed plans and decided to go to graduate school because their undergraduate degree might not be enough to get them a job.
– One in five students say at least one of their parents lost a job in the last year; these students were less likely to go to grad school because they can't afford it.
– Almost one in five students considered quitting school.
– 32 percent say money worries have a big impact on their stress level; that's up five points from last year.
The silver lining here... Pollsters say that despite all the apprehension, there's also a lot of determination and spirit on the part of these youngsters. These students think eventually their education will pay off... and will help them land a job.
Here's my question to you: In light of the economy, what advice would you give to a college graduate?
Interested to know which ones made it on air?