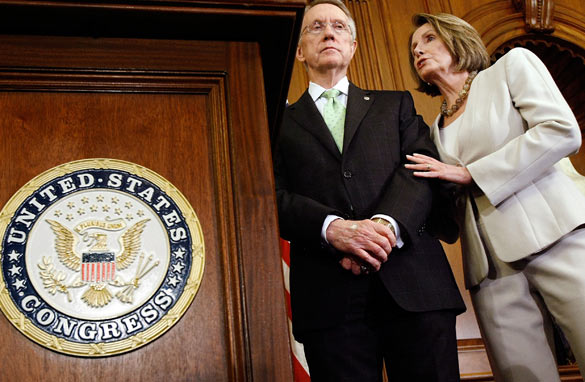 Senate Majority Leader Harry Reid and Speaker of the House Nancy Pelosi at a news conference in which the Democratic leaders discussed the first 100 days of the Obama Administration and their legislative accomplishments. (PHOTO CREDIT: CHIP SOMODEVILLA/GETTY IMAGES)
FROM CNN's Jack Cafferty:
President Obama has had a lot of success early in his term. But it could be even better.
Democrats control the House, and if Al Franken becomes the 60th Democratic senator, they will have a fillibuster-proof majority there. But as usual, when it comes to the Democrats, all is not well. And the problem starts with the leadership in Congress.
A new CNN/Opinion Research corporation poll shows House Speaker Nancy Pelosi with only a 39 percent approval rating - 48 percent think she's doing a terrible job.
And Pelosi is not doing herself any favors by the way she's handled the torture debate. There's reason to believe Pelosi knew about waterboarding as early as 2002 but she refuses to admit it. Instead she accuses the CIA of lying to Congress.
A Mason Dixon poll taken in Nevada for the Las Vegas Review-Journal shows Senate Majority Leader Harry Reid's approval rating is even worse: A meager 38 percent - about half of the state's voters have a negative view of Reid. In fact, there's a question whether he'll even be re-elected. 45 percent of those polled say they'll definitely vote for another candidate in 2010.
Here's my question to you: Would President Obama be better off with congressional leaders other than Harry Reid & Nancy Pelosi?
Interested to know which ones made it on air?
Matt writes:
Yes, Pelosi and Reid are the most incompetent leaders that I have ever seen. I'm a staunch Democrat and liberal, but those two make me sick. If they can't even get their own people in the House and Senate to vote the way that Democrats want, what's the use of even being in charge?
Kelby from Houston, Texas writes:
No, but they are not helping either. Reid really needs to get his troops in line. The people want Obama's agenda to move forward. The Senate Dems look weak and fearful in a time where they should not be. The Dems hold the majority for a reason; they need to act accordingly.
Marlene from Michigan writes:
Sen. Reid and Speaker Pelosi aren't necessarily the problem for President Obama. The Democrats in Congress represent diverse constituents and can't be expected to move in a block or in lock-step. That is what is great about the Democratic Party. But having term limits for all elected leaders would be the best thing for America.
Sue writes:
I speak with great authority: I've lived in Nevada for 10 years and lived in the San Francisco Bay Area for almost 40 years. These two lily-livered, untalented, incapable, malcontents are a disgrace to Congress and the country. Obama deserves much more capable people to help him bring our country back up to snuff. So let's snuff these two out in the 2010 elections if not sooner. I fear that they will be a drag on Obama for his entire time in office and we can't afford that.
Phil from Georgia writes:
Reid and Pelosi have been doing a stellar job. They are in very close lock-step with the president. You won't agree on everything, but they should be able to find ways to get most things done. Their only negatives are Republican talking points of criticizing anything they do and sadly Reid and Pelosi can't defend themselves all the time.
Karen from Nashville, Tennessee writes:
Would the president be better off? The entire country would be better off.