FROM CNN's Jack Cafferty:
It looks like gun rights advocates are about to score a win with a Democrat in the White House. The House and Senate have now both approved bills that would allow concealed and loaded guns into national parks and wildlife refuges - unless a state law doesn't allow them.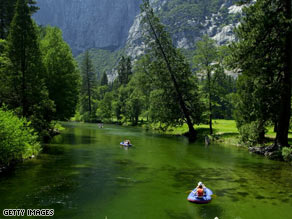 Yosemite National Park in California.
The measure has been attached to the credit card bill, which is a top priority for President Obama, and could become law this week. The bill passed with the help of moderate Democrats, many of them from the South and Midwest. One of the bill's supporters, Republican Senator Tom Coburn, says the move isn't a "gotcha amendment," but a real step to protect the Second Amendment.
Gun rights groups say the bill will give gun owners the same rights on national park land that they have everywhere else; but they say they don't want to declare victory until it becomes law.
Meanwhile groups like the Fraternal Order of Police and the Association of National Park Rangers say the bill would increase the risk of poaching and vandalism of park treasures, as well as threats to visitors and staff.
Some Democrats are disappointed in what they see as the success of the gun lobby under a Democratic president and Congress. But aides admit that many Democrats feel pressure to back gun legislation or face political heat from the National Rifle Association. Can you tell there's a mid-term election around the corner?
Here's my question to you: Should concealed and loaded guns be allowed in national parks?
Interested to know which ones made it on air?
Kathy writes:
What the hell is the matter with people's heads that this is even at issue? Why would a concealed weapon be needed anywhere, much less in a park? Where my kids may be hiking? Common sense... not so common anymore, is it?
Tom from Dubuque, Iowa writes:
Why, is al Qaeda recruiting grizzly bears? Just what the park rangers need – people with concealed guns running around our parks.
Tori writes:
I don't believe allowing concealed weapons on federal property would increase the risk of criminal activity. People predisposed to do those acts don't care if it's legal to carry a concealed weapon. The people who carry concealed weapons legally are less likely to act illegally.
Clay writes:
Absolutely not. If these people who carry guns are so afraid to go into our national parks without firearms then they should just stay at home. Our parks are supposed to be places of refuge for both humans and animals. And what will be the NRA's excuse when the first person is killed in a national park by a stray bullet fired by some drunk idiot with a firearm? That's the cost of maintaining our freedom? Give me a break.
Melissa writes:
Hell, yes. People who are legally permitted to carry a concealed weapon should be able to have their gun with them at all times except where they are prohibited… The lawmakers in Washington need to punish the people that break the law, not those of us who play by the rules.
Tina writes:
No. Our animals are on the endangered list now. Just wait till some Johnny shoot-first, ask-questions-later arrives in the woods armed to the hilt and comes across a bear. The bear will be dead. Only the park ranger should be armed.
Will writes:
Concealed and loaded amendments shouldn't be allowed in completely unrelated bills.