FROM CNN's Jack Cafferty:
With the economy in the toilet, millions of Americans have learned the hard way how to cut back on their expenses, and many have even begun saving more and living within their means. But not everyone.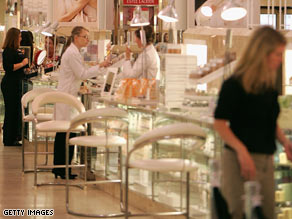 For those of you out there with a wife who always needs the latest pocketbook or perfume, or a husband who just can't live without the new iPhone, listen up: Money Magazine - a sister company of CNN - has a great piece on how to get your spouse to stop overspending.
Research shows that people who overspend usually do it to feel good or in control - not because they actually need what they're buying. In fact, purchasing new items often makes them feel powerful and secure. Therefore the worst thing to do is lecture your spouse on the virtues of saving. The more you talk about this stuff, the more likely he or she will just want to buy more.
Instead, it's more effective to have your spouse 'own the problem' - meaning keep track of what your household spends and ask your husband or wife to review it. Don't say anything else - that way he or she has the choice to cut back.
But if that doesn't work, it may be necessary to get separate bank accounts. Or if the situation is really out of hand, you may need to take even more drastic measures.
Just keep in mind - at the end of the day, the latest gadget or clothing is a heck of a lot cheaper than a divorce.
Here's my question to you: How do you get your spouse to stop overspending?
Interested to know which ones made it on air?
Mike from San Francisco writes:
My wife keeps the books, pays the bills, and is as tight as a tick. We've both reached the age where watching the bank account grow is more fun than going shopping and blowing money on nonsense.
Tom from Switzerland writes:
Marry someone who is not American, someone who has not grown up in our sickening credit and consumer culture, someone who does not adhere to the buy-now-pay-later mindset which has perverted our country and brought us to the brink of ruin.
Richard from New Hampshire writes:
The secret to a successful marriage is separate checking accounts (assuming both are working) and separate bathrooms. Both are equally important.
Matthew from Oxnard, California writes:
You can't, once a spender always a spender. I'm 17 and my parents have been divorced for 5 years because one of them was a shopaholic.
Heather writes:
How do you stop your spouse from overspending? How do you hold a moon beam in your hands?
B. writes:
Waterboarding?
Elisa writes:
My husband was very patient with my overspending for way too long. Eventually he showed me a spreadsheet with exactly how much we overspent on food and entertainment for several months in a row. He suggested we get 2 new bank accounts. One joint savings and one joint bill pay account. Now I don't feel like I'm being over-controlled or am out-of-control.
Kevin from Charlotte, North Carolina writes:
My wife is from the Hamptons. She has never heard of overspending.
Mike from Louisiana writes:
What overspending? I make it. She spends it. After almost 30 years of marriage I've found that as long as I don't spend anything, there's no overspending. She spends it all.