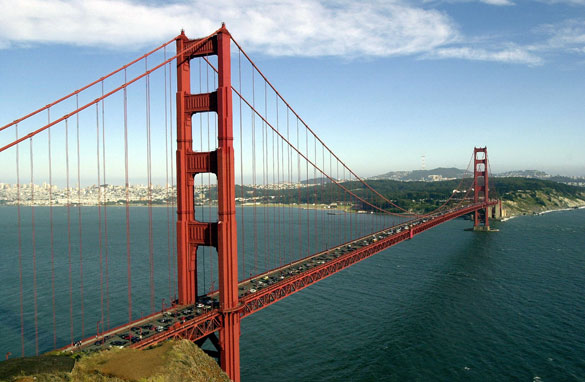 (PHOTO CREDIT: GETTY IMAGES)
FROM CNN's Jack Cafferty:
California has some serious money troubles.
Voters have rejected five out of six propositions that were meant to pull the state out of a deepening budget crisis. The measures were a combination of spending reforms, higher taxes, and changes in borrowing and funding. The only proposal that passed would prohibit pay raises for lawmakers during deficit years.
With the failure of these proposals, it's now estimated California's budget deficit could balloon from about $15 billion to more than $21 billion.
Governor Arnold Schwarzenegger had said if these measures failed, he'd have to make drastic cuts... This could include shortening the school year by a week and a half, cutting tens of thousands of education jobs, eliminating health insurance for 250,000 needy children, laying off 1,700 firefighters, withholding $2 billion from local governments - which could mean cuts in police forces and other services - and freeing almost 40,000 inmates from San Quentin prison.
The results of yesterday's special election mark a new low for the Republican Schwarzenegger, who had promised to restore fiscal stability to the state.
Meanwhile the three major credit rating companies reduced the grade on around $60 billion of California's bonds to the lowest rating of any U.S. state. There's no question the recession and record budget deficits are causing critical damage to California's economy - which would be the world's eighth largest if it were a separate country.
Here's my question to you: What would it mean if California went bankrupt?
Interested to know which ones made it on air?
David from California writes:
It would mean that taxpayers and state elected officials would finally have to face reality. For around 30 years, Californians have refused to increase taxes while at the same time demanding more and more government services. You don't need a degree in accounting to see that isn't going to work forever.
P. from Arizona writes:
Once again, California leads the way as we slip into third world country status. If this isn't a look at what's to come in this country, I don't know what is.
Brian writes:
Why would Californians vote for higher taxes? Of course if the state does go bankrupt, the federal government will step in and bail them out! After all, they are a part of the U.S. If the government can bail out the auto industry, banks and whomever else they deem it necessary, I am sure that they would be willing to "bail out" California.
Remo from Austin, Texas writes:
It's up to the voters of California to solve their own mess. If they've voted 'no' so many times, I guess a reality check is in order: If you don't have the funds, cut back the fun.
Simon from Orlando writes:
I don't think it's a matter of "if", but of "when". It's a prequel of what the rest of the country is eventually in for...a cut in services and an increase in taxes to cover all the debt we are now incurring.
Stef from Minneapolis writes:
Maybe I could finally afford to move there!
David from Missouri writes:
It would mean nothing to me since they did it to themselves. Free everything for everybody with no rainy day money. I don't feel a bit sorry for them.
Tutu from Lagos, Nigeria writes:
That's what happens when you let a terminator in.