Washington is cracking down on the credit card industry. With the Senate and House both voting overwhelmingly to cut down on rate increases and excessive fees, President Obama is expected to sign the bill soon.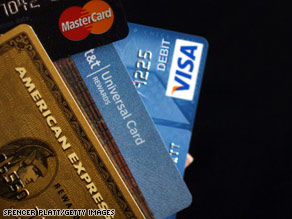 Some of the new restrictions:
– Lenders have to post their credit card agreements online and let customers pay their bills on the internet or by phone without an added fee.
– Customers have to be more than 60 days behind on a payment before seeing a rate increase; and even then, the company has to go back to the lower interest rate after six months if the customer pays the minimum balance on time.
– Consumers get 45 days' notice and an explanation before rates go up.
– Before getting a card, customers under 21 have to prove they can repay the money or that a parent or guardian could pay off the debt.
Missing from the bill is any kind of cap on interest rates.
Meanwhile since credit card companies probably won't be able to make as much money off customers with bad credit, they might turn their attention to people with good credit. Some suggest that for years, consumers who pay their bills on time and in full have been getting a good deal - frequent flier miles, cash-back rewards and other perks.
But those days may soon be over as banks are expected to consider bringing back annual fees, cutting back on rewards programs and charging interest immediately instead of giving a grace period.
Here's my question to you: Should credit card companies target customers with good credit?
Interested to know which ones made it on air?
Mark writes:
Jack, It's already begun. I've taken great pride in building a 786 FICO score. Other than the nominal purchases I make each month on my VISA and MC, I have no debts. Both cards are paid in full every month and there's been no delinquency in 20+ years, yet since May 5th I have received notices that the rates on both card are going up.
Cindy writes:
No they should not. They should be bending over backwards to keep them happy and spending. I've already started to aggressively pay off my credit cards and now I use cash or a debit card primarily, even for hotel rooms. The almighty greenback is once again king in my wallet. Good customers usually have options and when pushed too hard are not afraid to use them.
Paul writes:
I am what the credit industry terms a "deadbeat" – I pay off my balance every month and avoid all interest charges and fees, while reaping the benefits from perks such as cash-back and frequent flier miles. They should be satisfied getting my business. After all, they are making 2-5% off every purchase that I make from merchant fees. If they pull something stupid like eliminating the grace period, then I will stop using the card. Remember, us deadbeats have money on hand to pay cash.
Jackson from Rome, Georgia writes:
I just want them to leave me the *blank* alone. My wife and I each receive at least one credit card offer daily. I'm no tree-hugging, dirt-worshipping hippie, but even I know that the mind-boggling amount of paper being used to create that much junk mail is environmentally unconscionable.
Squirt writes:
No, they shouldn't target their good customers, Jack, but they will! I'm tired of being taken for granted, too, and you know what this good customer is gonna do? I'm gonna keep some extra cash around and write checks. I'm gonna pay cash wherever I can and if they don't come to their senses and show me a little more respect, I'll chuck the cards completely....except for my gold card!