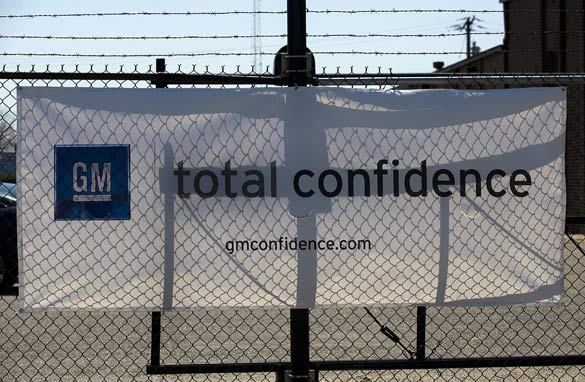 (PHOTO CREDIT: JIM WATSON/AFP/GETTY IMAGES)
FROM CNN's Jack Cafferty:
If you're looking for a new set of wheels, there are lots of deals out there - as two of the big three automakers close thousands of dealerships around the country.
789 Chrysler lots have a deadline of June 9 to unload more than 40,000 cars and trucks. The dealers have to sell the Chryslers, Dodges and Jeeps before then - or risk losing thousands of dollars.
Chrysler, which has filed for bankruptcy, doesn't have the money to buy back the vehicles. But the company says that dealers being cut will get warranty reimbursement and sales incentives like rebates and low-interest financing until June 9. After that, they won't get either... and that's why dealers are in a hurry to sell, even if it's at a loss.
Over at General Motors, the situation isn't quite as bad - at least not yet. Although the company is cutting 1,100 dealers, GM isn't in bankruptcy yet so dealers have more options. They also have more time to sell their cars - and the company is still required to buy back some of the cars and trucks.
Experts say before going to a dealership, you should find out about incentives and other deals, and make a low-ball offer. Of course - People can wait until the deadline gets closer and dealers are perhaps even more desperate - but keep in mind that inventory could be lower then and you may not get your first choice.
Here's my question to you: Is now the time to buy a Chrysler or GM car?
Interested to know which ones made it on air?
Mike writes:
These companies standing shoulder-to-shoulder with the president to tell me they are being coerced into doing what Honda and others have been doing for 20+ years is hardly the day to run out and buy one. When the guys in Detroit really come to understand that making an affordable green car requires more than changing the paint color, give me a call.
Ken from North Carolina writes:
Too late for that, Jack. I am already driving a GM vehicle. Besides giving me good service, I have found it to be a much better vehicle than any other as it is paid for.
Evalena writes:
Don't buy so quickly. Look before you leap. I have a 2007 Buick and have been waiting for a $29 motor mount since late January. The dealer is still saying the part will be here by late May. We'll see.
Gary from California writes:
I imagine there will be some real bargains offered up, but I'm not sure how that whole warranty thing is going to work. I'd be hesitant to buy one right now.
Steve from Oregon writes:
What's that old adage? If it's too good to be true, it probably is. I worked for Toyota for 6 years and their business model, product and treatment of their employees far exceeds that of American brands. Toyota and Honda sell more cars in the U.S. with fewer dealers. Americans are moving away from the era of the savings, rebates, interest rates and other incentives to wanting fuel economy, technology, reliability and resale. The American brands knew what would happen if they did not change in the 1970s, but instead tried to put profits ahead of principle and now have run out of countries to outsource to.
Frank writes:
Time to buy a Ford. Let's not forget who didn't come to the table for taxpayer cash.
Leonard from Amsterdam writes:
Great time to buy! Keep it in mint condition and in 20 years you'll make a killing on eBay: "Pristine example of America's squandered industrial greatness."