FROM CNN's Jack Cafferty:
Privacy groups want the government to get rid of whole-body imaging machines at airports - because they say the security technology performs a "virtual strip" search and produces "naked" pictures of passengers.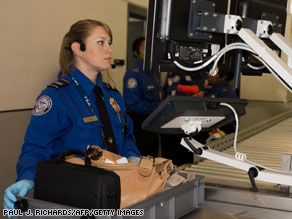 A TSA officer reviews a passenger's carry-on items during a whole body scan at Baltimore-Washington International Airport.
These sci-fi looking scanners were first introduced at a Phoenix airport in 2007. There are now 40 of them being tested and used in 19 airports. Some airports use them as a primary security check option instead of metal detectors; while others use it as a secondary option instead of a pat-down.
The Transportation Security Administration says the machines detect metallic and nonmetallic "threat items" to keep people safe, and that the technology is proven and they're highly confident in its detection capability. They also say this option is faster.
TSA officials say they're committed to respecting passenger privacy. The system uses a pair of security officers. The one who works the machine never sees the image, which is viewed behind closed doors by another officer, who never sees the passenger.
Also, the passenger's face is blurred. Officers can't bring cameras or any recording device into the room; and the machines automatically delete the images.
But critics are calling for more oversight, full disclosure for air travelers of what's going on here and legal language that would protect passengers and keep the TSA from changing its policy later on. The ACLU says we shouldn't pretend "being groped and being stripped" are our only options.
A bill was introduced in the House last month to ban these machines.
Here's my question to you: Should airports do away with whole-body scans because they show "everything"?
Interested to know which ones made it on air?
Myra in Hawaii writes:
Absolutely not! See what? An outline of the human body? Even fully-clothed, I think we all know and can imagine what is beneath. But, what we do not know is what might be concealed. I say, if you have nothing to hide, other then what we already know you have, then why not show it?
Mikea from Charlotte, North Carolina writes:
Yes, scans like these should be eliminated. People who want to fly should not be subjected to a peep show for airport security perverts. By the way, records and images are not always erased or expunged and rules are not always followed. That's how people find themselves on the internet. Even Miss California knows that!
Diane from Allentown, Pennsylvania writes:
If it keeps us safe, why not? It's not like the images are being shown on a JumboTron in the largest concourse in the airport. Personally I'd like at least a whistle. I can't imagine standing there and not laughing imagining the guy's face in the other room. But as long as there is no whooping and cat calls coming out of that room, what the heck? Loosen up America – strike a pose!
K.D. writes:
It's ironic how after 9-11 people kicked and screamed that they wanted more security in our country, especially airports. Now we install these whole-body scanner machines, and everyone is worried about privacy issues? People want to have their cake and eat it too.
Ian from Austin, Texas writes:
They should have never been introduced in the first place. These are just bringing us one step closer to a seemingly inevitable police state. I'm not willing to sacrifice my privacy for my liberty.
Kate writes:
I'm a frequent business traveler. I'm also a 67-year-old grandmother. Any TSA agent who can deal with that reality at 6:30am is welcome to it.
Dan from Ohio writes:
It would be quicker if we just went through the gate nude.