FROM CNN's Jack Cafferty:
The pressure is mounting on House Speaker Nancy Pelosi when it comes to the debate over torture - what she knew and when she knew it. Top Republicans are calling on the Speaker to come clean about all this and either apologize or possibly lose her leadership post.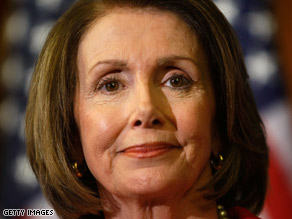 Newt Gingrich says Pelosi has "defamed everyone" in the intelligence community by claiming they misled her. He says he can't see how Pelosi can serve as speaker if it turns out she lied about national security to Congress and to the whole country.
House Minority Leader John Boehner says that if Pelosi is accusing the CIA of lying or misleading Congress, she could come forward with the evidence so these officials can be prosecuted. If not, Boehner says she should apologize to the intelligence community.
CIA Director Leon Panetta weighed in on all this last week and challenged Pelosi - saying it's not the agency's "policy or practice to mislead Congress. That is against our laws and our values."
Gingrich suggests that Panetta's comments put "strong, clear pressure" on the House to start a formal investigation of the speaker - who is third in line to be president.
Meanwhile, Pelosi responded to Panetta by shifting her criticism from the CIA to the Bush administration. She also continues to insist she was briefed on interrogation techniques only once and that she was told the techniques weren't being used.
But critics say Pelosi was fully briefed on waterboarding in 2002 and 2003.
Here's my question to you: Is it time for Nancy Pelsoi to step down as Speaker of the House?
Interested to know which ones made it on air?
Jim writes:
Jack, I've been a registered Democrat my whole life and have yet to hold any elected office. Still, I am far more qualified to be Speaker than Ms. Pelosi. She's an embarrassment (along the lines of what Bush was for the Republicans). It is long past time for her to step down, boogie down, move on down the road, slither away, beam out or spend more time with the family.
David writes:
Speaker Pelosi should absolutely not step down. The slathering Republicans think they can distract Americans with their hypocritical hand-wringing, and they are dead wrong. The people aren't stupid, and it insults our intelligence for the likes of Gingrich and Boehner to cluck their mock-shock at us like so many hens.
Jeff from New Britain, Connecticut writes:
We Republicans just love Nancy, Harry and Joe Biden right where they are! They are doing a fine job of shooting the Democratic Party in the foot! The polls are moving just in time for the 2010 campaigns.
Rae from Indiana writes:
It was time for Pelosi to step down years ago when she took impeachment off the table.
Marti writes:
Surely you jest in your question should Nancy Pelosi step down? When there is only a dispute about whether she was briefed once or twice? How naive to fall into the Republicans' attack on her, when all they are trying to do is divert attention from the real waterboarding culprits: Bush and Cheney.
Brian writes:
Yes, any politician who calls illegal aliens "patriotic" and our intelligence services "liars" without proof seems to have lost any sense of reality. She is a calling for a "truth commission", but Pelosi needs to be subjected to a "common sense" commission. It's admirable that she was the first woman Speaker, but now we really need somebody who has a clue.