FROM CNN's Jack Cafferty:
The number of countries with nuclear weapons could more than double in the next few years unless the major powers take serious steps towards disarmament. So says the head of the UN's nuclear watchdog agency... Mohamed El Baradei tells the British newspaper The Guardian that the current international regime that limits the spread of nuclear weapons is in danger of collapsing.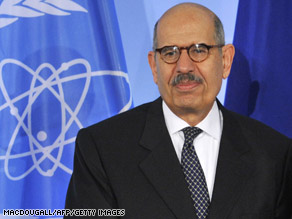 International Atomic Energy Agency Director Mohamed El Baradei is pictured at the 'Managing Global Insecurity' conference in Berlin.
The 1970 nuclear non-proliferation treaty was supposed to restrict membership in the nuclear club to the U.S., Russia, China, the U.K. and France. But it has been less than successful. For the last 40 years, Israel, India, Pakistan and North Korea have all been developing nuclear weapons outside of this framework.
El Baradei predicts the next wave of proliferation will include so-called virtual nuclear weapons states - countries potentially like Iran, who can produce plutonium or highly enriched uranium - and know how to make the weapons, but haven't gotten there quite yet. He says soon there could be nine nuclear weapons states and another 10-20 virtual weapons states.
El Baradei suggests the only solution is for established nuclear powers to live up to non-proliferation guidelines and disarm as quickly as possible. Only then will the major powers have the moral authority to go to these wannabe weapons countries and ask them to stop.
Here's my question to you: What can be done to stop the proliferation of nuclear weapons?
Tune in to the Situation Room at 5pm to see if Jack reads your answer on air.
And, we love to know where you're writing from, so please include your city and state with your comment.
Interested to know which ones made it on air?