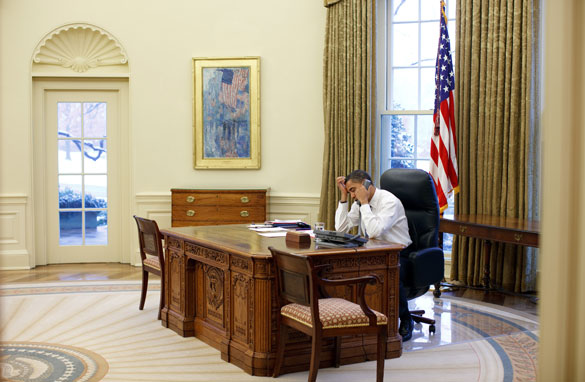 The president has seen the photos and said they're not particularly sensational compared to images from Abu Ghraib. (Photo by Pete Souza/White House via Getty Images)
FROM CNN's Jack Cafferty:
President Obama says he doesn't want to release alleged prison abuse photos because it could affect the safety of U.S. troops overseas and "inflame anti-American opinion."
And it wouldn't exactly be the best timing for the president himself, who is scheduled to soon go to Egypt and address the Muslim world.
Nonetheless, the decision is a reversal for the White House - which last month said it had no problem with the Pentagon releasing hundreds of pictures of detainees in Afghanistan and Iraq.
But after hearing concerns from military commanders, the president says releasing these images could have a "chilling effect" on further investigations of detainee abuses - without adding to the understanding of past abuses.
Mr. Obama, who has seen the photos, says they're not "particularly sensational" when compared to the images from Abu Ghraib. And he repeated that any future abuse is unacceptable and won't be tolerated.
Needless to say, the decision isn't sitting too well with many of his liberal supporters. Some groups are accusing President Obama of violating his promises of openness and transparency; and of sounding just like the Bush administration when it comes to claims of secrecy.
Democrats were split - some backing the president's decision, while others think he should release the photos. Meanwhile top Republicans applauded President Obama.
It's unclear what will happen, but the matter could wind up in the Supreme Court, since two lower federal courts have ordered the pictures be released.
Here's my question to you: Should the alleged detainee abuse photos be released?
Interested to know which ones made it on air?