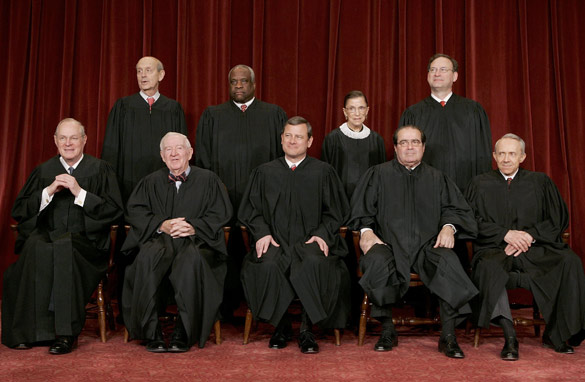 Ruth Bader Ginsburg is currently the only female Supreme Court Justice. (PHOTO CREDIT: MARK WILSON/GETTY IMAGES)
FROM CNN's Jack Cafferty:
When it comes to nominating the next Supreme Court justice, President Obama is likely under pressure from interest groups, lawmakers, you name it...
But it turns out Most Americans aren't too concerned about the gender, race or ethnicity of the person who will fill Justice David Souter's seat on the bench.
A new Gallup poll shows 64 percent of those polled say it doesn't matter to them if the next Supreme Court justice is a woman. 68 percent don't care if that person is Hispanic; and 74 percent say it doesn't matter if the next justice is black.
It's widely expected that President Obama will nominate a woman. Currently the Court only includes one female justice, Ruth Bader Ginsburg, who has been battling cancer. Yet only six percent of Americans say it's essential that the president appoint a woman.
The poll shows women are more likely than men to feel that gender matters; but not by as large a margin as might be expected. And even a majority of women say it doesn't matter to them. There are also partisan differences - with more Democrats, than Republicans or Independents, saying it's essential or a good idea that the next justice be a woman. But again, a majority of all three groups say it just doesn't matter.
Here's my question to you: How much does it matter to you if the next Supreme Court justice is a woman or minority?
Interested to know which ones made it on air?
Joan from Orange County, California writes:
The next Supreme Court justice appointed could be on the bench for 30-40 years. Criteria for selecting a nominee should be intellect, judgment, independence and open-mindedness. Our county is best served by Supremes who do NOT have a political agenda!
Lee from Dallas writes:
The fact is it matters a great deal. Having a bench with the overwhelming majority being comprised of white men is not even close to a true representation of the diversity of America.
Melissa writes:
No. Look what happened to the Republican Party. They chose that weakling Steele as their leader even though he's obviously not qualified and not able to control himself. I'd rather they chose the best person for the job, no matter what their sex or the color of their skin.
Peter writes:
Yes, Jack, it does. The Supreme Court has been so out-of-touch, stale and conservative; it is like a foreign entity to Americans. A woman, especially if she is a member of one of the minority groups, would be great. Such a nominee will bring this institution back in line with real America. No use for another conservative, old, white man.
Gerry from Toronto writes:
The president should appoint a gay, female, minority judge just so the conservatives can have another meltdown.
Shelba writes:
It doesn't matter to me what sex, color or creed the new Supreme Court justice is as long as that person knows and is dedicated to the Constitution of this country and does not try to rewrite it to political/social influences of the moment.
We have had enough of that already.
Matt writes:
It doesn't matter much to me. But I'll bet that in order to satisfy everybody, Obama will have to find a homosexual, black/Chinese woman with a surname like "Sanchez."