FROM CNN's Jack Cafferty:
The recession is taking its toll on Social Security. The government says the trust fund will be paying out more money than it receives by 2016 - a year earlier than expected. And unless changes are made, it will be gone in 2037 - that's 4 years sooner than expected.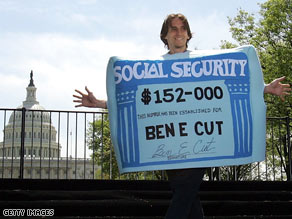 A man dressed as a Social Security card is pictured during a rally in D.C. to protect Social Security.
As a result, Social Security recipients probably won't get cost-of-living increases in 2010 or 2011 - something that's happened every year since 1975.
Here's the problem: Social Security is funded by payroll taxes. And with 5.7 million Americans out of work since the recession started, and another 4.3 million jobs being filled on a part-time basis, there's just not as much money going in. With nearly 80 million baby boomers getting ready to retire, the demand for benefits is rising.
Treasury Secretary Timothy Geithner says the administration will tackle Social Security once health care is addressed. Whenever they get around to it, the options are limited. Either raise revenues, which means increase the taxes people pay into Social Security, or cut benefits. That could mean raising the retirement age - which is already scheduled to increase to 67.
Both choices could be political suicide - but something's gotta give. Washington has known about Social Security's problems for years and has chosen to do nothing about it.
Here's my question to you: How confident are you Social Security will be there for you when you retire?
Interested to know which ones made it on air?
R. from Chicago writes:
This has been a problem on the horizon for years, if not decades, and yet no one seems to have made it a priority to figure out a solution. I'm 42 and don't expect to see a dime when (make that if) I ever get to retire, yet I've been paying in my whole adult life. Maybe I should ask for my money back now, while they still have it.
Katie writes:
As a 30-year old, I've been saving/investing under the assumption it would never be there for me. I just wish the money that my employer and I are putting into Social Security would go towards something investing in MY future.
Mike writes:
Jack, Why isn't the complete income of people taxed for Social Security? I believe only the first $105,000 is taxed. Think of the taxes on the millions some people are drawing for a salary. Not even counting their bonuses… Poor people are taxed on every dollar they make.
Patrick from Lake Stevens, Washington writes:
Yes, I am confident it will still be around, Jack. For years, folks have been predicting Armageddon on Social Security and it has not happened.
Nathan from Oregon writes:
Jack, If Social Security, the biggest government entitlement of all, doesn't work and is going broke, then why do we think creating more expensive programs in health care, education and other social services will work?
Patty from Bristol, Pennsylvania writes:
Dear Jack, Good Lord, no. I'm 42 years old. With two wars to pay for, a broken health care system and don't forget the obscene tax cuts for the super-wealthy, people of my generation will be lucky if we are not living on the street.
Terrance from Hartville, Missouri writes:
I don't know, Jack, but one thing is for sure: if we had put it into the stock market like the Republicans wanted, it wouldn't be around now!