FROM CNN's Jack Cafferty:
Add Mike Huckabee to the growing list of Republicans publicly taking one another down as they fight for the soul of the party. The former Arkansas governor and presidential candidate is blasting some GOP leaders.
Huckabee writes on Fox News' web site: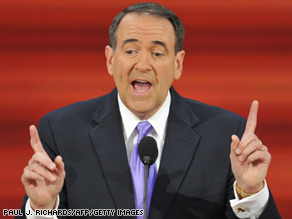 Former Republican presidential candidate Mike Huckabee.
"It's hard to keep from laughing out loud when people living in the bubble of the Beltway suddenly wake up one day and think they ought to have a listening tour; even funnier when their first earful expedition takes them all the way to the suburbs of Washington, D.C."
Huckabee is referring to the National Council for a New America, formed by folks like Jeb Bush, Mitt Romney, and John McCain. Their first meeting was held at a Northern Virginia restaurant.
Huckabee also suggests the party is at risk of becoming as "irrelevant as the Whigs" if it moderates its policies. That sounds a lot like what Dick Cheney and Rush Limbaugh have been saying. These right-wingers are not helping the Republican Party to portray itself as more moderate and inclusive.
Huckabee's a lot more likable than Limbaugh or Cheney, but the message is just as shrill; and at the end of the day... it seems like Republicans are self-destructing without any help from the Democrats.
Meanwhile speaking of the former vice president, his daughter is picking up right where he left off. Liz Cheney suggests President Obama appears to be siding with terrorists for agreeing to release photos showing alleged abuse at U.S. prisons in Iraq and Afghanistan during the Bush administration.
President Obama has now ordered government lawyers to object to the release of these photos because he says it could endanger our troops.
Here's my question to you: How damaging is it for the Republicans to continue to criticize each other publicly?
Interested to know which ones made it on air?