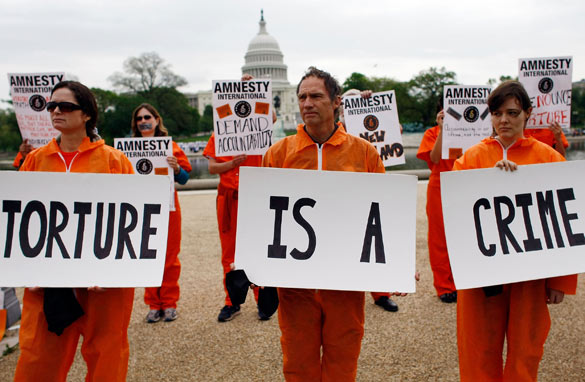 Amnesty International activists protest near the U.S. Capitol. They are calling for an independent investigation into alleged human rights abuses by the Bush administration. (PHOTO CREDIT: GETTY IMAGES)
FROM CNN's Jack Cafferty:
Democrats are plowing ahead with hearings into the so-called Bush torture memos - even if the White House isn't on board.
A Senate Judiciary subcommittee will hold a public hearing tomorrow to be followed by House hearings. The committee chair says it will focus on legal issues such as the conduct of Justice Department lawyers who wrote or approved memos justifying harsh techniques like waterboarding. This is separate from the investigation being done by the Senate Intelligence Committee.
The White House isn't commenting on tomorrow's hearing, but has previously indicated that the president prefers the investigation already underway in the Senate Intelligence Committee. That inquiry is going on behind closed doors and with classified information; so it's unclear how much of it will ever be made public.
Meanwhile House Speaker Nancy Pelosi continues to change her story about what she knew and when she knew it. Politico reports a Pelosi aide was briefed along with Congresswoman Jane Harman in February 2003 on the specific techniques that had been used on al Qaeda leader Abu Zubaydah - including waterboarding.
At that time, Harman wrote to the CIA expressing her "profound" concerns with the tactic. Pelosi apparently told her aide to tell Harman she agreed with the letter, but she didn't sign it.
Last week, Pelosi said she was briefed only once in 2002; and was only told the Bush administration was considering using certain techniques in the future.
Here's my question to you: Should Democrats hold hearings into the Bush interrogation memos even if the White House disagrees?
Interested to know which ones made it on air?
Joe writes:
Many Democratic leaders in Congress will not let this go until it plays out. It's a way for them to wash their hands of this whole affair even though many of them were deeply involved. I'd like to see if these hearings will put Nancy Pelosi and other Democrats who may have had full knowledge on the stand. Get it all out in the open and let the chips fall where they may.
Tony writes:
What a stupid question, Jack. Why? Because your audience consists mostly of liberal Democrats who will say that the Democrats should prosecute Bush and Cheney, string them up and maybe drag their bodies around Washington. You thrive on those answers. You certainly don't look for the truth.
Joan from New York writes:
Jack, Holding the hearings without Obama's approval is politically the smartest way to handle it for everyone. It shows that the Bushies can't get away with torture, and it lets Obama stay free of the mess.
Helen writes:
This must be a joke. No one holds the Bush family accountable for anything. Anybody who served in war and was captured knows what torture is. And for our country to use this type of interrogation makes me sick. My son is on his second tour in Iraq and I dread every day he is away. I would not want this done to him or any service personnel.
John from Chicago writes:
This Congress needs to start looking forward and quit blaming the prior administration for everything. The Democrats have been in control of the Congress since '06 and have not had a major impact at all. And, if there is a hearing, the Democrats who were briefed and had knowledge should also be held accountable, not just the Bush Administration.
Mark from Bradenton, Florida writes:
Absolutely. These gangsters were sworn to uphold the U.S. Constitution and to represent the American people. We have a right to know what was going on.