Gas prices are up almost 10 percent in the last two weeks, and have hit a six month high. AAA says the national average is now $2.25 a gallon for unleaded regular, up $0.20 from two weeks ago. One of the main reasons gas prices are going up is because of rising crude oil prices, which closed at their highest level of the year on Friday.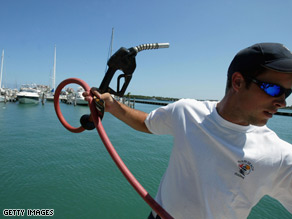 Will the price of gas keep you from doing what you really want to do this summer?
The good news is analysts say it's unlikely that prices will climb as high as they did last summer, when most people were shelling out $4.00 a gallon. In fact, while prices are going up now, they're still nearly 50 percent lower than the record high set last July.
Also it's typical to see prices increase ahead of Memorial Day weekend - the unofficial start to summer, when more Americans start hitting the road. But AAA says they'd be surprised to see prices reach $3.50 a gallon this summer unless there's an unexpected supply disruption - something like a hurricane.
The slumping economy is also expected to keep prices lower. That's because income is the biggest factor determining how much people drive; and with unemployment at 8.9 percent, it seems more likely that people will stay close to home to save on the gas bill.
Here's my question to you: How will rising gas prices and the recession impact your summer vacation plans?
Interested to know which ones made it on air?
Donna from Colorado Springs writes:
We plan on taking small trips this summer. Because gas is over a dollar cheaper than it was the same time last year, we might travel a little more. You can't sit at home and worry about the economy 24/7. We all need a break right now.
Steve from California writes:
I'll be unemployed at the end of May. No money. No vacation. Even if gas were $1.50, I'd still be staying home.
Joe writes:
The price of a barrel of oil was $32 in January 2009. It has been climbing ever since, finishing today at $58/barrel. The real question is: why? The economy is staggering, unemployment is at 9%, businesses that traditionally use large quantities aren't, oil storage facilities can't take any more, tankers waiting to unload, OPEC turning the valve off. Yet oil is on the rise. One can only say that we are on the oil standard, not the gold standard.
Ron from Oregon writes:
We're still haunted by last summer's gas prices and I haven't had much work for the last 6 months. With that and all of the great news today about Social Security and Medicare, we will probably not travel much this summer. If we do, it will be within the state.
Marin writes:
I'm so over the slump of the economy. I want to have fun again without feeling guilty about it. I plan on taking a nice trip this summer, and gas prices and the recession aren't enough to stop me from having a good time. Wanna come along Jack? Bring Wolf.
Fernando from San Diego writes:
I will just have to stay here in San Diego this summer. I will have to relegate myself and my family to making sand castles, taking walks and eating at home together. We might even have to cancel our cable plan and just read or talk to each other. We will miss you, Jack. Well, not that much.