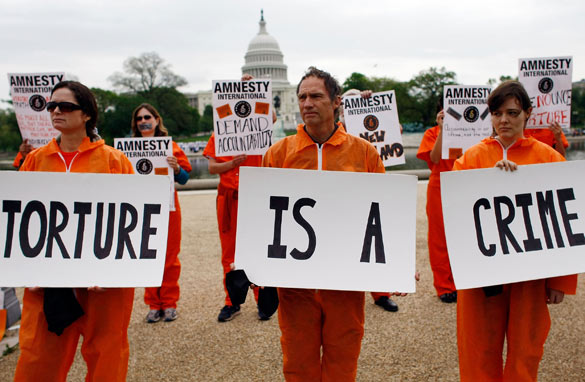 Amnesty International activists protest near the U.S. Capitol. They are calling for an independent investigation into alleged human rights abuses by the Bush administration. (PHOTO CREDIT: GETTY IMAGES)
FROM CNN's Jack Cafferty:
Democrats are plowing ahead with hearings into the so-called Bush torture memos - even if the White House isn't on board.
A Senate Judiciary subcommittee will hold a public hearing tomorrow to be followed by House hearings. The committee chair says it will focus on legal issues such as the conduct of Justice Department lawyers who wrote or approved memos justifying harsh techniques like waterboarding. This is separate from the investigation being done by the Senate Intelligence Committee.
The White House isn't commenting on tomorrow's hearing, but has previously indicated that the president prefers the investigation already underway in the Senate Intelligence Committee. That inquiry is going on behind closed doors and with classified information; so it's unclear how much of it will ever be made public.
Meanwhile House Speaker Nancy Pelosi continues to change her story about what she knew and when she knew it. Politico reports a Pelosi aide was briefed along with Congresswoman Jane Harman in February 2003 on the specific techniques that had been used on al Qaeda leader Abu Zubaydah - including waterboarding.
At that time, Harman wrote to the CIA expressing her "profound" concerns with the tactic. Pelosi apparently told her aide to tell Harman she agreed with the letter, but she didn't sign it.
Last week, Pelosi said she was briefed only once in 2002; and was only told the Bush administration was considering using certain techniques in the future.
Here's my question to you: Should Democrats hold hearings into the Bush interrogation memos even if the White House disagrees?
Interested to know which ones made it on air?