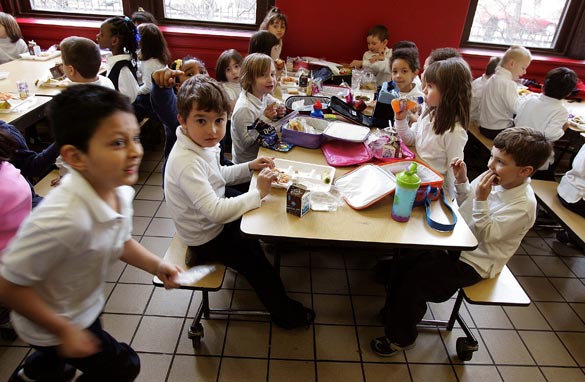 (PHOTO CREDIT: GETTY IMAGES)
FROM CNN's Jack Cafferty:
As the recession forces states to slash education funding, more school districts are considering cutting the school week down to four days as a way to save money.
The Los Angeles Times reports that only about 100 of the nation's 15,000 school districts now use a four day schedule - most of them small, rural school districts.
But that might change... some districts are now tossing around the idea to serve more suburban or urban areas, including suburbs of Denver, Colorado; Portland, Oregon, and even the country's fifth largest school system in Florida's Broward County.
Usually schools that go to four day weeks extend their hours 60 to 90 minutes per day. Experts say there's no proof as to whether the shorter week helps or hurts students.
But some worry that especially younger students will lose focus with a longer day. And many parents don't like the idea because it means they would have to find another child care option for that extra day. This is why schools are also considering other options - like ending sports, mandatory furloughs for employees and renegotiating union contracts.
Also, when you consider the below-average results that many U.S. schools are already turning out each year, it seems like less time in school is hardly the answer.
But education spending makes up the biggest share of states' budgets. Nationwide, the 50 states face a combined 350 billion dollar shortfall over the next 3 years. They are also planning to eliminate close to 600,000 jobs.
Here's my question to you: In light of reduced education budgets, is a four-day school week a good idea?
Interested to know which ones made it on air?