FROM CNN's Jack Cafferty:
There's a new chapter in the saga over who knew what - and when they knew it - when it comes to the ongoing torture debate. The Obama administration just released records that show House Speaker Nancy Pelosi was briefed in September 2002 about the enhanced interrogation techniques that had been employed against al Qaeda prisoners. Past tense - had been.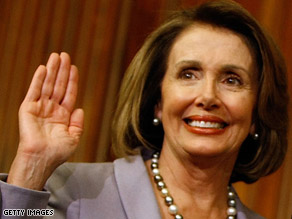 House Speaker Pelosi maintains she was not told that so-called enhanced interrogation techniques were used.
The documents don't list the specific methods covered during that briefing. However, during the preceding month, the CIA apparently waterboarded Abu Zubaydah at least 83 times.
This doesn't exactly match what Pelosi has been telling us. Pelosi has previously acknowledged being briefed on the CIA's program, but says she only knew about methods they were considering - not about ones they actually used.
As recently as a week ago, Nancy Pelosi said: "We were not - I repeat were not - told that waterboarding or any of these other enhanced interrogation methods were used."
With the release of these new records, Pelosi came out with a carefully worded statement: That she had been briefed only once; she was told the techniques were legal but that waterboarding had not yet been used.
Republicans have been accusing Democrats, like Pelosi, of hypocrisy for getting all outraged about torturing terror suspects - and calling for investigations. They say the Democrats have known about it for years and are only now causing a row because suddenly the information was made public.
Former CIA director and Former Republican Congressman Porter Goss describes these lawmakers' claims as "a disturbing epidemic of amnesia."
Here's my question to you: Do you believe Nancy Pelosi when she says she was never told about torturing prisoners?
Interested to know which ones made it on air?