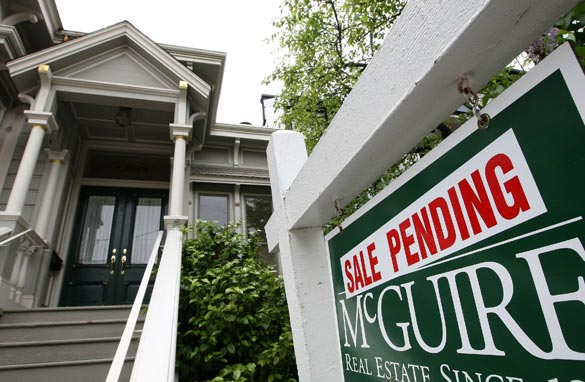 (PHOTO CREDIT: GETTY IMAGES)
FROM CNN's Jack Cafferty:
There are some signs that the nation's beat-up housing market might be starting to recover...
USA Today reports that more homes for sale are now getting multiple offers as buyers are trying to lock in deals at low prices. Real estate experts say this has especially been the case in states like California that are hit hard by foreclosures and dramatic price drops.
One Florida realtor says that one in 10 homes now gets multiple offers - that's up from one in 30 last fall. The competition for some homes is driven by low prices - down almost 40 percent in some places - low mortgage rates, and also a new tax credit of up to $8,000 for some first-time buyers.
Meanwhile first time owners are now buying more than half of all homes; and experts say they could help the industry by snapping up much of the excess inventory.
There are other positive signs:
– Pending sales of existing homes just posted their first back-to-back gains in almost a year.
– Construction spending unexpectedly rose, ending a six-month slide.
– And, one report shows the decline in home prices in 20 major cities slowed during February for the first time since 2007.
– When you add in some scattered signs that the job situation is not unraveling quite so fast and an uptick in consumer confidence, you have the makings of a better spring than a lot of the experts expected.
Here's my question to you: Is the housing market better or worse than it was 6 months ago where you live?
Interested to know which ones made it on air?
Jonathan from Phoenix writes:
Jack, The housing market here was terrible 6 months ago, got worse for the next 3 months, and now appears to be making a turn-around. There are still some home owners and banks pricing their houses above market value, impacting our ability to get through the supply, however most individuals have realized the true value of their homes and we are seeing a moderation in the number of houses sitting on the market.
Anthony from New Jersey writes:
Funny you should ask. I sold my house and purchased a new one before the bubble burst. Made a killing. But now, in my new, once-burgeoning community, I see idled bulldozers all over the landscape. It feels like an eerie ghost town.
Chuck from Sheboygan, Wisconsin writes:
God, I hope so. I work at the largest manufacturer of kitchen and bath products in America and if things don't pick up in the housing market soon, I'm going to be out of a job.
Micah from California writes:
It's gotten somewhat better. I've noticed that there are fewer "For Rent" or "For Sale" homes than there had been 5-6, even 3 months ago. Granted, there are still many out there that haven't been moved into. It's kind of in limbo, I think. However, if people are beginning to gain confidence in the economy and housing market again, then things will continue to look up. Here's hoping.
Dan from New Jersey writes:
The housing market is about the same. Sellers are just more resigned to accepting the lower prices.
Anna from Florida writes:
I live in Orlando, and I certainly hope the housing market is getting better. We're moving to a new home in June, and we're going to need to sell our old one. Wish us luck.