FROM CNN's Jack Cafferty:
It's time to debate legalizing marijuana in California - so says Governor Arnold Schwarzenegger. As the state faces mounting deficits, the governor says he's open to talking about different ways to create revenue. Although Schwarzenegger doesn't think the state should rush to judgment and start taxing and legalizing pot right now, he says he's interested in looking at other countries that have legalized it to see what effect it's had.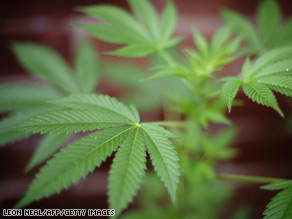 A cannabis plant is pictured. Cannabis is known as marijuana in its herbal form.
Schwarzenegger's comments come as support grows nationwide for legalizing pot. In California, a recent poll found for the first time a majority of voters back legalization.
One California lawmaker says regulating and taxing marijuana would bring the state as much as $1.3 billion a year in extra revenue. Proponents say it's about more than just money; it's about the failure of the war on drugs and implementing "a more enlightened policy."
One advocate tells The San Francisco Chronicle that Schwarzenegger's comments represent "a tectonic shift" in attitudes on the issue, saying: "The public is going to drag the politicians into doing what is right."
But not everyone is so sure this would be the right move. Some lawmakers say the potential revenue would hardly make a dent in California's deficit - which could soon reach $20 billion. They say this is just a sign of the governor's "growing desperation" over the budget.
Here's my question to you: Is legalizing marijuana the answer to the government's money problems?
Tune in to the Situation Room at 5pm to see if Jack reads your answer on air.
And, we love to know where you're writing from, so please include your city and state with your comment.
Interested to know which ones made it on air?