FROM CNN's Jack Cafferty:
No criminal charges for the authors of the Bush administration's so-called torture memos; that's according to a preliminary report by the Justice Department. The draft report instead suggests the government might call on state bar associations to take sanctions against two of the three lawyers who wrote the memos. The most severe punishment they could get would be disbarment.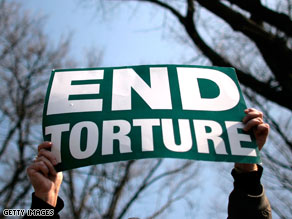 This report now goes to Attorney General Eric Holder for approval or revisions, and is expected to be finalized soon. The torture memos were written after the 9/11 attacks, and authorized harsh interrogation techniques including waterboarding, throwing detainees against walls, and forced nudity.
And needless to say, these lawyers didn't decide to write this stuff on their own - someone told them to do it.
The issue has become a political hot potato for the Obama administration, although the president opened the door to criminal prosecution for those who authorized these acts, he also talks a lot about looking forward instead of dwelling on the past.
Meanwhile a new CNN/Opinion Research Corporation Poll shows most Americans don't want to see an investigation of Bush officials... 57 percent of those surveyed say Congress should not conduct an investigation; and 55 percent don't want to see an independent panel created to look into this stuff. The poll also found 50 percent support President Bush's decision to authorize these harsh techniques; even though 60% believe it was torture.
Here's my question to you: Would disbarring the Bush lawyers who wrote the interrogation memos be enough to put an end to the torture debate?
Interested to know which ones made it on air?
Peter from Boulder, Colorado writes:
It wouldn't put an end to the debate, but maybe disbarring the lawyers might inspire them to do a little talking to Congress about just what they were ordered to do to help the White House make an end run around torture prohibitions.
L.C. writes:
The torture debate will end when the media start reporting on the American lives saved by waterboarding. Then watch the Democrats run for the exits on this issue.
Circy from New Mexico writes:
The torture debate isn't going to die so easily. Using torture on others is going to leave scars that are long-lasting. This action can't be defended by countries that pretend to be civilized while at the same time lecturing others on their behavior.
AB from Fort Worth, Texas writes:
No! The high-level officials would get off scot-free, just as they have throughout history. Go after Cheney, Rumsfeld, Bush and the others who are insulated against their wrongdoings. It won't be over until the light is shown on all involved.
John from North Carolina writes:
I don't know if this will end the debate, Jack, but we need to move on. At the end, can you really get any information from terrorists by being nice?
Nancy from Illinois writes:
No, Jack. Everyone involved must be prosecuted so this never happens again. If I robbed a grocery store and told the officers that, "It's in the past, I just want to move on," they'd haul me away. How is this any different? There's no ambiguity here; clear war crimes were committed and must be prosecuted. This cannot be swept under the rug.