FROM CNN's Jack Cafferty:
And now for today's installment of 'The Republican Party is in deep trouble'... Among their many issues - turns out the GOP is really hurting when it comes to women voters. A new Gallup poll shows that among women, Democrats have a solid double-digit advantage in party identification over Republicans - 41 percent to 27 percent.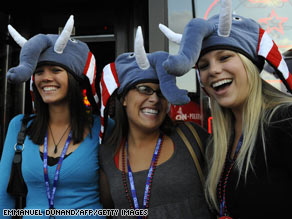 Compare that to men, who are pretty evenly divided - 30 percent identify as Democrats and 28 percent as Republicans.
The news is even worse for the GOP when you take into account independent women who lean Democratic... in that case the advantage is 57 percent to 35 percent for the Democrats.
Meanwhile the Republicans may want to take some advice from Colin Powell, who says they are in big trouble and need to find a way to move back to the center. The former Secretary of State says the party is "getting smaller and smaller," which isn't good for the country.
He says Republicans need to realize the country has changed, that Americans want to pay taxes for services and are looking for more government in their life.
Also, Powell is criticizing some party leaders for bowing too much to the right; and says right wing commentators like Rush Limbaugh and Ann Coulter don't serve their party well. He says he doesn't want Republicans to turn into Democrats, but instead to build a vibrant party.
Hint: that may be one way to get more women to support them.
Here's my question to you: What should the Republican Party do to attract more women voters?
Interested to know which ones made it on air?
Lesley writes:
Respect our right to make our own choices about our bodies. Start to respect and vote for policies that reflect a true respect for civil rights. Quit sending our sons and daughters off to war. Put the environmental welfare of my offspring over their immediate need for greed and wealth. That would be a start.
Kevin from Brazil, Indiana writes:
Rather than trying to attract women, the more pressing problem confronting the Republican Party is how to remove the stranglehold the religious right has on the party. Take care of that and the rest will follow.
Jasmine from Germany writes:
Highlight young, accomplished, vibrant, intelligent, center Republican women (that does not include Sarah Palin). Keep extreme right-wingers like Limbaugh and Coulter out of the media (they are seen as fascists by many). Reassess the party's ideology. And finally, listen to Colin Powell.
Marge writes:
I think if the GOP got more interested in giving woman equal rights, and weren't so uptight on abortion, more women would join the party. Republicans don't have to agree on abortion, but if every time the party gets in trouble they would stop pushing this subject, they might pick up more converts. They use abortion to pander to the far right and there are not enough to really give them wins anymore.
James from Euless, Texas writes:
Republicans could establish a lottery whereby all women who registered Republican would be eligible to win a date with Rush Limbaugh.
Dick writes:
Well, most of the women I know like to talk, eat, drink red wine, complain about their husbands and shop. So to attract these women, the Republicans should sell t-shirts degrading men in an open town hall meeting while serving wine and cheese.