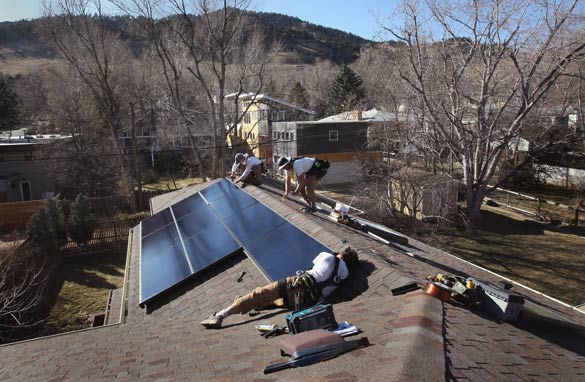 Solar panels are installed on a home's rooftop.(PHOTO CREDIT: GETTY IMAGES)
FROM CNN's Jack Cafferty:
Americans will have to cut back on their consumerism because it's hurting the environment... So says Oregon's Governor Ted Kulongoski.
He tells the New York Times that when it comes to some environmental regulations, it's a lifestyle issue, because we Americans have a love affair with consumerism and consumption.
The governor says that other than taxes, the hardest thing to talk with his constituents about is changing their lifestyles. As an example, he points to car companies still making SUVs.
This guy is ahead of the curve - he has strongly supported renewable energy development - both by luring foreign solar manufacturers and wind companies to Oregon; and by supporting emerging technologies, like wave power.
Governor Kulongoski acknowledges that some of these changes - like transitioning away from fossil fuels - will cost people money. But he says politicians have to tell their constituents they "can't continue to consume 25 to 30 percent of the world's natural resources. It isn't possible."
He says that whatever issue he raises about energy - be it nuclear, coal, ANWR, offshore drilling, etc. - people are resistant. But it's impossible to make progress if everything is taken off the table. Oregon's governor says the U.S. has wasted about 10 years in not engaging our citizens... and that's why Europe is so far ahead of us.
He absolutely gets it.
Here's my question to you: Do Americans need to cut back on consumerism?
Interested to know which ones made it on air?
Matt from Washington writes:
Of course we need to cut back, but the better question is: can we? I'd like to be optimistic, but unfortunately I think Americans would prefer to go down with the ship rather than change course.
Jerry from West Virginia writes:
Jack, They already have. Consumer spending is down. Savings are up. People are beginning to learn how to live within their means, sort of like our parents did. Isn't it refreshing?
Tony writes:
Yes and no. Consumerism wouldn't be as bad if everything wasn't disposable. Making things that last, i.e. not replacing a cell phone every year. We have taken planned obsolescence to an extreme in the last 30 years.
Roeland from Alkmaar, Netherlands writes:
As a European, it's easy for me to say, but yes I think Americans should cut back on consumerism. I've been brought up on the idea that you can spend what you earn, not what you can borrow, because the latter has to be paid back with interest.
Richard writes:
We Americans, if we are serious about confronting climate change, need to give up many things, including consumerism. You'll have to travel a lot less, be a lot hotter in the summer and a lot colder in the winter, and turn off a lot of things that use electricity, including your lights at night. And we'll have to build huge numbers of nuclear power plants to replace the coal burning plants we use now. Face it, no politician is going to say that and almost no citizen will support anyone who does.
Melanie writes:
Hmmm, let me get back to you after I open this clamshell package of disposable pens, take a swig of my bottled water, read the 80 pages of store flyers in today's newspaper and wipe down my kitchen with throw-away anti-bacterial wipes.