FROM CNN's Jack Cafferty:
And now for today's installment of 'The Republican Party is in deep trouble'... Among their many issues - turns out the GOP is really hurting when it comes to women voters. A new Gallup poll shows that among women, Democrats have a solid double-digit advantage in party identification over Republicans - 41 percent to 27 percent.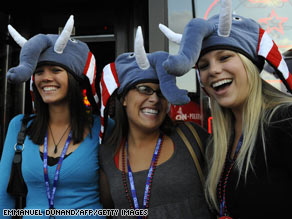 Compare that to men, who are pretty evenly divided - 30 percent identify as Democrats and 28 percent as Republicans.
The news is even worse for the GOP when you take into account independent women who lean Democratic... in that case the advantage is 57 percent to 35 percent for the Democrats.
Meanwhile the Republicans may want to take some advice from Colin Powell, who says they are in big trouble and need to find a way to move back to the center. The former Secretary of State says the party is "getting smaller and smaller," which isn't good for the country.
He says Republicans need to realize the country has changed, that Americans want to pay taxes for services and are looking for more government in their life.
Also, Powell is criticizing some party leaders for bowing too much to the right; and says right wing commentators like Rush Limbaugh and Ann Coulter don't serve their party well. He says he doesn't want Republicans to turn into Democrats, but instead to build a vibrant party.
Hint: that may be one way to get more women to support them.
Here's my question to you: What should the Republican Party do to attract more women voters?
Interested to know which ones made it on air?