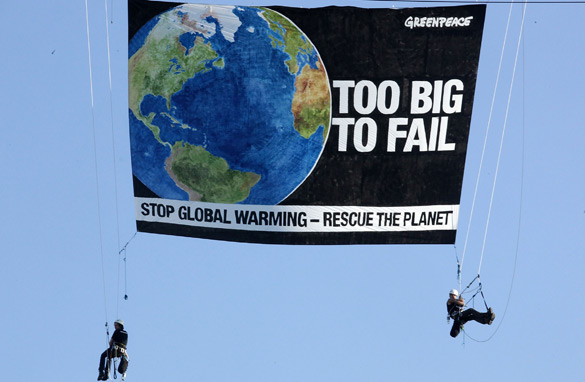 Greenpeace protesters hang with a banner from a construction crane in DC.(PHOTO CREDIT: MARK WILSON/GETTY IMAGES)
FROM CNN's Jack Cafferty:
Stop calling it "global warming"... that's the message coming from some environmentalists.
And apparently it's because the term turns people off and brings to mind shaggy-haired liberals and issues like gay marriage, economic sacrifice and complicated scientific arguments.
The New York Times got a hold of a memo sent by a group called EcoAmerica that's been conducting research for years on how to best frame environmental issues.
So instead of global warming, the firm recommends talking about our deteriorating atmosphere - instead of haggling over carbon dioxide - they suggest talking about "moving away from the dirty fuels of the past." Instead of energy efficiency, try - saving money for a more prosperous future. And instead of the word 'environment' - talk about "the air we breathe, the water our children drink."
But it's unclear whether using different words will actually make people care more about the environment. A recent Pew Research Center Poll shows global warming finished dead last among 20 voter issues; behind things like moral decline and decreasing the influence of lobbyists.
One expert points out that partisans on both side of the issue are essentially doing the same thing - they're using advertising techniques to try to manipulate public opinion. He calls the approach "cynical and ineffective." Maybe so, but the term 'global warming' apparently isn't getting it done.
Here's my question to you: Why does global warming rank last on a list of 20 issues of concern to voters?
Interested to know which ones made it on air?