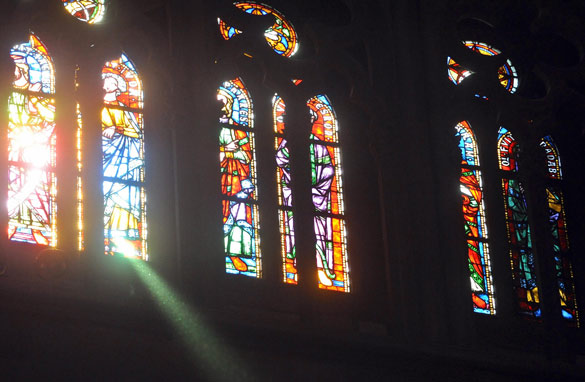 (PHOTO CREDIT: PATRICK HERTZOG/AFP/GETTY IMAGES)
FROM CNN's Jack Cafferty:
As the debate about torture rages on in Washington - with calls for investigations of the Bush administration - here's a perhaps surprising nugget about how Americans view torture of suspected terrorists.
Turns out the more often people go to church, the more likely they are to support torture - that's according to a new survey by the Pew Forum on Religion and Public Life.
The poll finds that of more than half of Americans who attend church services at least once a week, 54 percent say the use of torture is often or sometimes justified.
Only 42 percent of people who seldom or never go to church agree...
Evangelical Protestants are the religious group most likely to agree; while people unaffiliated with any religious group are least likely to support torture.
Of course evangelicals were a major voting bloc courted by President Bush both times he ran for office; and former Bush officials continue to speak out now about how the harsh techniques yielded critical information that helped keep this country safe. But it's ironic that the faithful are more supportive of torture, isn't it?
Overall, Pew found 49 percent of Americans say torture is at least "sometimes" justified; while 47 percent say it rarely or never is. Republicans are more likely to support the actions than Democrats; while a majority of Independents believe that torture is sometimes justified.
Here's my question to you: Why is it that the more often Americans go to church, the more likely they are to support torture of suspected terrorists?
Interested to know which ones made it on air?
Alex from Florida writes:
This should be a wake-up call to pastors. They need to teach their congregations that supporting a conservative ticket based on some values like marriage and/or abortion does not mean that you have to support the parts of that platform that don't jive with those values. They need to address the paradox and say, "You can't be pro-life and at the same time be pro-death penalty, pro-guns, and pro-torture."
Boots writes:
Hi, Jack. I'm not sure that the 'faithful' finding torture acceptable should surprise us. Isn't that what Islamic fundamentalists do? All radicalized forms of thinking lack innate tolerance - that's what radicalism does, whether it's based on religion, politics, culture, money or anything else. That's what I think we should be considering here.
Charles writes:
I am an Evangelical Protestant and I absolutely abhor torture, Bush and all he stood for. I can only hope that the poll which was the basis of this accusation was somehow flawed.
Ralph from Orange Park, Florida writes:
Frequent churchgoers are more likely to be self-righteous, intolerant and ready to demonize others, all of which makes it easier for them to justify torture.
Michael from New Mexico writes:
That is a loaded question, Jack. I do not accept the premise. Churchgoers are not more likely to support torture. I don't know who they polled to arrive at such an absurd conclusion. But, I suspect this to be propaganda with the agenda to smear believers, using a very broad brush.
Clinton writes:
Why? Why?! Really? Jack, c'mon... Can you say, "Crusades?" Can you say, "Holy War?" Can you say, "Jihad?" Nobody loves man's inhumanity to man more than those who have God on their side.
George writes:
Having been tortured sitting through all of those sermons, I think it's no wonder churchgoers want to share the misery.