FROM CNN's Jack Cafferty:
As the recession drags on, many Americans feel they've been dragged down with it. A new Washington Post-ABC News Poll shows 56 percent of those polled say the recession has caused them to make significant changes in their lifestyle; and a quarter are angry or upset about having to do so.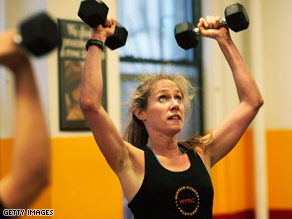 Exercise can reduce symptoms of depression, particularly during these trying economic times.
According to the survey, 66 percent of Americans have lost a job or seen it happen to someone close to them; while 71 percent have either had their wages or hours cut or seen it happen to a friend or relative. Not to mention the values of their 401(k)s and homes tanking.
So how can people stay positive with all this depressing stuff going on? U.S. News and World Report talked to experts for tips on how to stay happy during the recession.
Some of their suggestions include:
– Spending money on an experience, show tickets or dining out, rather than an item - new clothes, a cell phone or jewelry
– Working on meaningful relationships - especially with cheerful people
– Being grateful for what you've got - spending time with those less fortunate, like at a soup kitchen or hospital, can do wonders for that
– Exercising - which can reduce symptoms of depression
– Practicing acts of kindness like donating blood or feeding a friend's pet
Here's my question to you: In light of the recession, what makes you happy?
Interested to know which ones made it on air?
Oliver writes:
Well, Jack, it's simple really. Good weather has been doing the trick. It's funny how being able to wear shorts in Chicago really cheers up the whole campus.
Nic writes:
I've been spending a lot of time outdoors. I go for walks, hiking, biking and just enjoy the simple things. I don't need to go out and spend money like I used to. It's been a real eye-opener for me.
Ko writes:
What makes me happy is that I hope the age of excess, the "Me" decade, and the rampant materialism that has defined our society since the 1980s will stop, or at least be substantially reduced. We need to define success based on what we do, not on what we have.
Nancy writes:
My health. Everything else pales in comparison.
Jeffrey writes:
Sex.
Arthur from Chicago writes:
Peanut butter and jelly, the smell of good barbecue, fresh sheets on the bed, and a play at the plate in baseball.
Connie writes:
I'm happy that I have my health and my job. I've been unemployed twice in my life, and I know how difficult it can be.
Bob writes:
Jack, During these trying times it makes me happy to hear stories and see Americans helping each other and their communities that are struggling. All politics aside, this giving instead of taking brings me real joy!
Parker from Covington, Kentucky writes:
Friday makes me happy.
Steve writes:
Knowing that if Jack Cafferty can hold a job, most Americans shouldn't be too worried about the overall employment situation.