Stock markets have been rallying for almost two months now since the Dow hit a nearly 12-year low in early March. The S&P 500 has surged about 30 percent since then; and the Dow Jones industrial average has posted its best two months since the start of the last bull market in 2002. International indexes are up sharply too, marking the strongest global stock rally since 1991.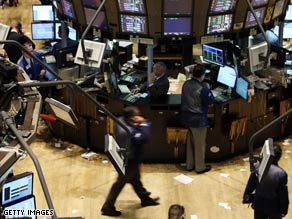 Traders work on the floor of the New York Stock Exchange moments before the closing bell.
One expert tells the Financial Times: "All the things are in place for the bear market to have ended."
And it's not just stock markets that are rebounding... credit markets, emerging markets and commodities - like oil - are all on the rise. Also, although company earnings are still decreasing, they aren't as bad as they were. Surprise results have come from companies like Wells Fargo, JP Morgan, Ford and Apple.
And then there's the massive economic stimulus program that may have started to work its way through different parts of the economy.
It's hard to believe two months ago we were all talking about the first depression since the 1930s, deflation and bank nationalizations. But markets often improve before the wider economy does; and some think the markets could keep rallying for another six months.
The 'glass half empty' crowd isn't convinced. They suggest the current stock market rally is not for real. They worry that banks will continue to hold back lending and housing prices will continue to fall.
In light of the fact that many Americans have been standing on the sideline for some time...
Here's my question to you: Is now the time to invest in the stock market?
Interested to know which ones made it on air?
Rudy from Irvington, New York writes:
My father was in the market when all of this started, and when it became apparent that the Bush administration and their lap dog followers were going to be shown the door, I encouraged him to stick it out. I think the market and the economy will bounce back, you simply have to recognize that it's not the same market anymore and bear (no pun intended) with its changes.
Tim from Washington writes:
Jack, A month ago was the best time to invest, but now is better than never. Unexpected success stories like Bank of America have boosted confidence. That, along with efforts to stabilize major industry players and keep people employed, is going to keep confidence up!
Terry from Illinois writes:
Not yet. We have to wait for the Democrats to put the regulations back into place that the Republicans and Bush removed so we are better protected from the greedy capitalists.
Elijah from San Francisco writes:
When the bubble first popped and the DOW plunged 500 points in a day, I immediately jumped ship and switched to bonds within hours of the crash. It was too late and I had already lost a lot of money. It will take me a while to want to try my luck again.
Bob from Penney Farms, Florida writes:
Jack, I am a small investor, but since February I have been putting $200 a month into the stock market, half into a regional bank and half into a Fortune 500 company. The bargains are there and now is the time to pick them up. I just wish I could put more into investments at this time.
Patrick writes:
Invest? With what money?
Ray from Kalamazoo, Michigan writes:
Jack, You can bet that when the average investor jumps back into the stock market, the big boys will start selling. That is just the way it works. The little guy will get hosed all over again.