FROM CNN's Jack Cafferty:
As the recession drags on, many Americans feel they've been dragged down with it. A new Washington Post-ABC News Poll shows 56 percent of those polled say the recession has caused them to make significant changes in their lifestyle; and a quarter are angry or upset about having to do so.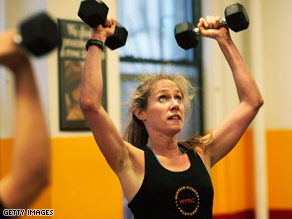 Exercise can reduce symptoms of depression, particularly during these trying economic times.
According to the survey, 66 percent of Americans have lost a job or seen it happen to someone close to them; while 71 percent have either had their wages or hours cut or seen it happen to a friend or relative. Not to mention the values of their 401(k)s and homes tanking.
So how can people stay positive with all this depressing stuff going on? U.S. News and World Report talked to experts for tips on how to stay happy during the recession.
Some of their suggestions include:
– Spending money on an experience, show tickets or dining out, rather than an item - new clothes, a cell phone or jewelry
– Working on meaningful relationships - especially with cheerful people
– Being grateful for what you've got - spending time with those less fortunate, like at a soup kitchen or hospital, can do wonders for that
– Exercising - which can reduce symptoms of depression
– Practicing acts of kindness like donating blood or feeding a friend's pet
Here's my question to you: In light of the recession, what makes you happy?
Interested to know which ones made it on air?