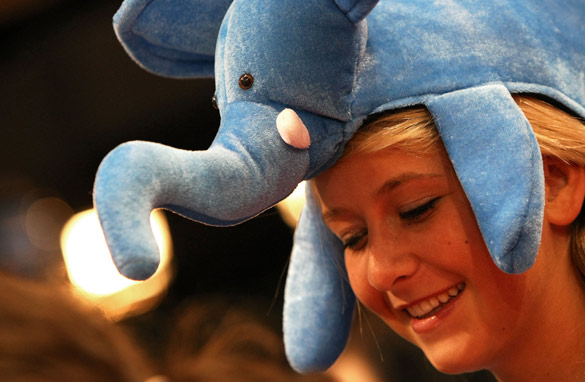 A girl wears an elephant hat at the Republican National Convention.(PHOTO CREDIT: GETTY IMAGES)
FROM CNN's Jack Cafferty:
In an effort to counter President Obama's 100th day in office, Republicans are making a push to re-brand themselves as something other than "the party of no."
Some top party members are announcing a series of town hall-style meetings about their ideas for shaping the country. The group will operate outside of the Republican National Committee and will contrast their policy ideas with the Democrats'. So far - that's something that's been lacking.
Members of this "National Council for a New America" include Florida Governor Jeb Bush, Senator John McCain, Louisiana Governor Bobby Jindal and Former Massachusetts Governor Mitt Romney, among others - not exactly a crop of fresh faces.
The group says it's not a Republican-only forum and will seek to include more than just their ideas; they're calling on all Americans to participate in their policy debate. The Democratic National Committee is dismissing all this, calling it "more beltway PR gimmicks."
Meanwhile it's clear that Republicans need to do something to stop the bleeding. With only about one in four voters identifying themselves as Republicans these days, and a favorable rating of 39 percent, the Republican party is in serious trouble.
Some have even questioned the relevance of the Republican party - should the Democrats get the 60 vote filibuster proof majority in the Senate, while also controlling the House of Representatives and the White House?
Here's my question to you: What does the Republican Party have to do to improve its image with voters?
Interested to know which ones made it on air?
Geri from Mead, Oklahoma writes:
On social and moral issues, they need to stop sounding like they are the Pope making pronouncements from the Vatican. Their pretended outrage is rather boring, especially to the younger generation and anyone else who doesn't belong to the right wing of the party.
Bob from Georgia writes:
The Republican Party is ultimately going to have to find representatives, pundits, and spokespersons who are more inclusive of all Americans. They seem to criticize anyone who is not white, old, Christian, and so-called conservative, which leaves about 100 people who are pure enough for the party!
Patrick writes:
Republicans can get back by winning the idea debate. For every Democratic plan that comes out, Republicans should come out with an alternative. If the Democrats steal some ideas, so what? Running a British-style "shadow government" can force a debate on ideas and alternatives.
B. writes:
Just wait long enough for Obama to fall flat on his face. It won't be too long.
Ted writes:
Jack, I am tired of hearing about the Republicans and their problems. They haven't created all our problems, but they certainly have contributed to most of them. Now they don't want the president to succeed in solving them… Stories about them are really getting as old and tired as they are.
Mike from Denver writes:
Normally, when groups have an image as poor as the Republican Party, I would say they have nowhere to go but up. They are attempting to make progress, but "up" seems to be an elusive direction for them so far.
Ned writes:
Stop whining. Enough said.