FROM CNN's Jack Cafferty:
Unless you've been hiding under a rock, you have been bombarded with news coverage of the swine flu for several days now. And when the World Health Organization raised its pandemic alert to the second highest level - of 5 - yesterday, the media couldn't get enough of it. After all, this stuff sells newspapers and gets ratings. But when you take a look at the numbers, it seems like the story might be overblown...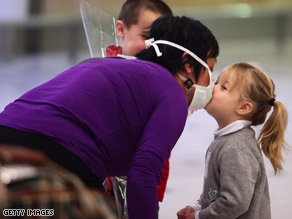 The WHO has confirmed 257 cases of swine flu worldwide. 97 cases in Mexico, with seven deaths. Mexican officials have reported much higher numbers - 2,500 cases and more than 150 deaths - but those numbers haven't been confirmed. In the U.S., the WHO says there are 109 confirmed cases with 1 death. Out of a population of more than 300 million people, that hardly seems to be cause for alarm.
And scientists who are studying the virus say this strain of influenza doesn't look as deadly as strains that have caused previous pandemics. In fact, some suggest that the current form of the swine flu virus may not even do as much damage as the regular flu.
More than 13,000 people in the U.S. have died of complications from seasonal flu since January; and it's expected to continue killing hundreds of people a week. In total, about 36,000 people a year die from the flu in this country; and worldwide, the annual death toll is somewhere between 250,000 and 500,000.
One scientist tells the Los Angeles Times that just because the swine flu is being identified in more countries doesn't mean it's spreading especially quickly, saying: "You don't ever find anything that you don't look for."
Here's my question to you: Has the swine flu story been overblown?
Interested to know which ones made it on air?
Doug from Dallas writes:
Wow, that's an understatement! This is nothing more than a new strain of the flu that comes every year. It isn't any more contagious than regular flu. We don't hear anything about the 36,000 people who die every year from the "normal" flu so what's the big deal? If school systems shut down every time a kid got sick (ie. Ft. Worth), they'd never be open.
Danny writes:
Are you kidding me?! Hell yes, it is being overblown. This has to be the rhetorical question of the century.
Richard from Orrtanna, Pennsylvania writes:
Hi Jack. As it stands now, yes. But, if it were to become a killer virus, then the answer is no. You may be asking this question too early; you may have to ask it again next winter.
Carrie from Seattle writes:
It's been completely overblown. I'm ready for it to stop, now. How about everyone learn to properly wash their hands, cover their mouths when they cough, etc. and we can tackle all the different flu bugs at once without mass hysteria. It's ridiculous.
Terence from Piscataway, New Jersey writes:
Jack, It's not overblown at all. When a member of our family catches this disease, we will all know what to do to get well and not spread it around. This is what makes our country so great. We are well-informed about everything through the media and you, Jack.
Courtney from Connecticut writes:
Overblown or not, I'm tired of hearing about it. I was initially concerned (my brother is getting married in Mexico in July!) and then frustrated. Now I just want everyone, especially the hypochondriac in my office, to take a step back for five minutes and chill. The sky is not falling, folks!