Despite the tens of billions of dollars the U.S. spends on education every year, high school students have not made any significant gains in reading or math for nearly 40 years. A new government report known as the "Nation's Report Card" shows results for 9, 13, and 17-year-olds dating back to the 1970s.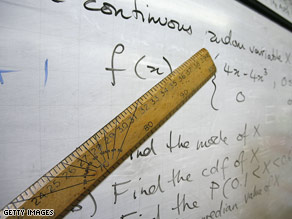 While the two younger groups have improved in those subjects over the years, scores for 17-year-olds have barely budged.
On reading tests, the high schoolers' scores have improved by exactly one point out of 500 points since 1971. They have "intermediate skills," and can make generalizations about what they've read. As for math, the scores have gone up by just two points since 1973. Students can perform "moderately complex procedures" like using decimals or fractions.
Colleges and businesses, not surprisingly, say many high school students just aren't up to snuff; that they earn diplomas without learning the necessary skills for life. As one education advocate puts it: "If high schools were cell phones, they'd be considered in a dead zone."
Secretary of Education Arne Duncan calls the results for high school students "especially troubling." No kidding...
President Obama speaks about education being one of his administration's top priorities. This national report card suggests he doesn't have much time to waste.
The administration wants to make boosting high school graduation rates a key focus. They also want states to start using tougher common standards for both teaching and testing, instead of benchmarks that vary from state by state.
Here's my question to you: What does it say about the state of education if high schoolers have made little progress in reading and math since the 1970s?
Tune in to the Situation Room at 6pm to see if Jack reads your answer on air.
And, we love to know where you're writing from, so please include your city and state with your comment.