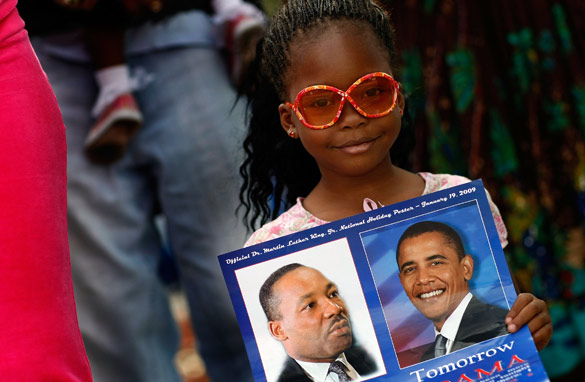 (PHOTO CREDIT: GETTY IMAGES)
FROM CNN's Jack Cafferty:
100 days into office, the history Barack Obama made in becoming this country's first African-American president hasn't been lost.
It's something that Mr. Obama rarely talked about on the campaign trail - or since he's taken office - but it is a subtle part of his larger message of change; and may have already improved race relations in this country.
A new New York Times/CBS poll shows 66 percent of those surveyed say race relations are "generally good" in the U.S.; that's up from 53 percent who felt that way in July. 22 percent say they're "generally bad," and that number is down from 37 percent. When it comes to black Americans, the percentage who say race relations are good has doubled since the summer.
When asked a question about his historic presidency at his last press conference, Mr. Obama said that at the inauguration there was "justifiable pride on the part of the country that we had taken a step to move us beyond some of the searing legacies of racial discrimination," but then added, "that lasted about a day."
But these poll numbers suggest otherwise. One white woman polled in Indiana - a Democrat - says since the election she's noticed "people of different races being kinder to each other." A Republican white woman in Kansas City says Mr. Obama's openness and acceptance has helped others act the same way. A black Democratic woman in Ohio says with Obama as president, whites and blacks seem to be working toward the same goals.
Here's my question to you: How has President Obama affected race relations 100 days into office?
Interested to know which ones made it on air?
Anthony from Swedesboro, New Jersey writes:
I've spent my whole life wondering what all the fuss was about racial divisions. I see a person as someone who contributes or someone who is parasitic. These people cover every spectrum of the rainbow. The whole problem is stereotyping, the weapon of the ignorant. President Obama broke the wall of ignorance and provided an example to other blacks that education is cool. I want to see more black children thirsting for knowledge and less black children ridiculing them for "acting white."
John from Virginia writes:
Not a bit, except to make it obvious that it's ok for the left to say "What a wonderful president and he's a black man!" while it's racist for the right to say "What an awful president and he's a black man!" This only shows that race relations haven't budged one bit, namely because we are still talking about it and there is a double standard.
Michael from Slidell, Louisiana writes:
People of all races now feel part of the system, not just along for the ride. That makes people more concerned and more involved.
Denny from Tacoma, Washington writes:
Truthfully I think it is still too early to tell. If Obama succeeds then he will help racial relations tremendously; if not, his failure will only enforce the irrational thinking of the prejudiced. His election was truly an uplifting event to the oppressed, but his success is much more important.
Stephanie from Pittsburgh writes:
For the vast majority of Americans, the Obama presidency has been a breath of fresh air for race relations. For those who have been "quiet" racists, it is forcing them out from under their rocks so that the rest of us can confront them head on with a united front.
Pablo from Arlington, Texas writes:
Jack, It seems nothing overt or dramatic has happened in race relations. But, if you could look into the hearts of the children here and around the world who identify personally with Barack Obama, I think you would find the fires of hope and change burning more strongly and more brightly than any of us old codgers thought would happen in our lifetime.