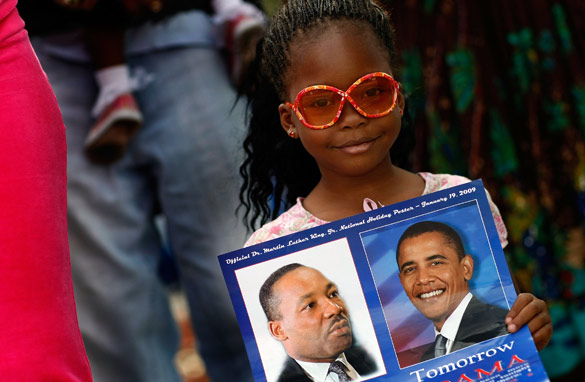 (PHOTO CREDIT: GETTY IMAGES)
FROM CNN's Jack Cafferty:
100 days into office, the history Barack Obama made in becoming this country's first African-American president hasn't been lost.
It's something that Mr. Obama rarely talked about on the campaign trail - or since he's taken office - but it is a subtle part of his larger message of change; and may have already improved race relations in this country.
A new New York Times/CBS poll shows 66 percent of those surveyed say race relations are "generally good" in the U.S.; that's up from 53 percent who felt that way in July. 22 percent say they're "generally bad," and that number is down from 37 percent. When it comes to black Americans, the percentage who say race relations are good has doubled since the summer.
When asked a question about his historic presidency at his last press conference, Mr. Obama said that at the inauguration there was "justifiable pride on the part of the country that we had taken a step to move us beyond some of the searing legacies of racial discrimination," but then added, "that lasted about a day."
But these poll numbers suggest otherwise. One white woman polled in Indiana - a Democrat - says since the election she's noticed "people of different races being kinder to each other." A Republican white woman in Kansas City says Mr. Obama's openness and acceptance has helped others act the same way. A black Democratic woman in Ohio says with Obama as president, whites and blacks seem to be working toward the same goals.
Here's my question to you: How has President Obama affected race relations 100 days into office?
Interested to know which ones made it on air?