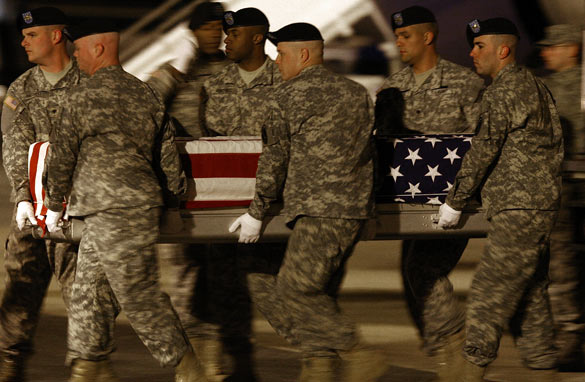 (PHOTO CREDIT: GETTY IMAGES)
FROM CNN's Jack Cafferty:
Since the Obama administration lifted the ban on media coverage of fallen troops returning to the U.S., most military families are choosing to allow reporters and photographers to witness the ceremonies.
The press had been banned from covering these solemn ceremonies ostensibly to protect the privacy of the soldiers' families. Cynics suggest it was because President Bush didn't want attention drawn to the fact that soldiers were being killed in the phony war he started in Iraq.
The ban was actually imposed 18 years ago by Bush's father, the first President Bush, during Operation Desert Storm. The father of one Army corporal recently killed in Iraq said, "I think it was to protect the government's butt." That's exactly what it was.
So far - 14 of 19 families have allowed the media cover their loved one's return. The Pentagon calls it "a pretty good majority." The Air Force Mortuary Affairs office says reporters have been cooperative and there haven't been any problems. They also say they'll help facilitate a meeting with reporters if the family wants... although only one family has done that so far.
Sadly, media interest has dropped off rather dramatically in just a few short weeks: almost 40 members of the press turned up for the return of the first combat casualty they were allowed to cover... at a more recent ceremony, the AP says its photographer was the only one.
Here's my question to you: What does it mean if most military families want the media to cover the return of fallen troops to the U.S.?
Interested to know which ones made it on air?
Annette writes:
As a mother of an army infantry sergeant who has served two deployments to Iraq, I welcome the decision to raise the ban. If, God forbid, my son is ever killed in action, I would want to honor his courage and make sure that the country never forgets the war that continues so far away.
Steve writes:
It is an excellent idea to let the families of fallen soldiers decide whether they would like their losses honored by dignified media coverage. And the decline in such coverage since the rules were changed is more a sign of the implosion of newspapers nationwide than of media insensitivity. In the past, local newspapers would have moved heaven and earth to cover their fallen sons and daughters - but today the decimation of newspaper budgets makes this a budgetary impossibility.
Kate from Canada writes:
It's sad that more media are not covering the arrival home of fallen soldiers. In Canada, it is a moving ceremony that brings home to all of us the sacrifices that these soldiers and their families have made on behalf of all of us. Our media here cover each homecoming.
Kristen from Sherman Oaks, California writes:
The majority of families wanting, or allowing, press coverage means the Bush administration never did it to 'protect' them; it was to protect their own agenda.
Johnny from Pittsburgh writes:
It means that most people who suffer this kind of loss don't want it to go by unspoken. It means they don't want the loss to be ignored. They have lost something of utmost importance, and they want everyone to know. We should know. It's part of the true cost of the war, and part of our national grief.