FROM CNN's Jack Cafferty:
In light of the ongoing recession, about one-third of Americans say they've been spending less in recent months. More importantly, they say they plan to make this their "new, normal" pattern in the future. A new Gallup poll shows overall 53 percent of those surveyed say they have been spending less, while 32 percent of those people say it will become the new norm.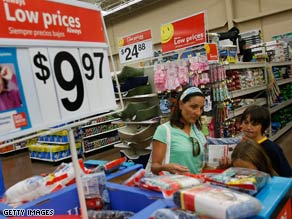 Many Americans say they're saving more in light of tough economic times. Others are struggling just to make ends meet and do not have the extra cash to put away.
30 percent say they're spending about the same amount of money; and a surprising 17 percent say they're spending more. Meanwhile when it comes to savings, 36 percent say they're saving more in these tough times.
31 percent are saving the same amount as before; while 32 percent say they're saving less. This is probably because many Americans are doing everything they can just to make ends meet and don't have any extra money to put away.
The poll also found nearly 60 percent of Americans say they enjoy "saving money" more. That's 22 points higher than those who say they enjoy "spending money" more; and that gap has increased since the last time the question was asked.
It's worth noting that it's difficult to predict what people will actually do in the future; but these poll numbers could mean bad news for the country's retailers. Gallup suggests we may be seeing a "new frugality" settling in among many Americans.
Here's my question to you: Is spending less a new reality for your family?
Interested to know which ones made it on air?
Don from Toledo, Ohio writes:
Both my wife and I worked and we ate out quite a bit. She lost her job, so no more of that. We recently took an overnight trip for relaxation. Cheap motel, eating at discount restaurants and taking advantage of every discount available. Didn't use one credit card and still had fun. Hope this is a life style we can stick with.
Sandy from Arkansas writes:
The true reality for most of us is that most necessities cost more these days and yet our paycheck has not gone up. Therefore, we are not spending less, we are just getting less for what we spend. I have not had a raise in almost 4 years and don't anticipate getting one. The old saying, "my take home pay won't take me home" is beginning to ring true.
P.J. writes:
No. Responsible Americans have spent within their means for years. We don't buy just for the heck of it and don't let fads rule our lives. Material possessions don't control us and we actually have money to enjoy an occasional "treat."
M.K. writes:
I am trying desperately to save each month. It is slow going. I now realize my relationship with money was not as solid as I had thought.
Steven writes:
"Spending less" has become more of a mantra than a reality. Every last expense has been re-examined and re-evaluated, no matter how trivial. Eating out has become a thing of the past and we are now content to buy generic-brand food. The term "discretionary spending" is now considered foul language. Groceries, gas, education – and hunkering down, are the order of the day.
Mari from Salt Lake City, Utah writes:
Nope, we have always lived within our means and budget. We do not worry; we have followed the financial rule of having 8 months of our salary in our regular savings account for a rainy day.
Mac writes:
Welcome to the new trend! Forget losing weight or plastic surgery, it's all about who can spend the least amount of money at the grocery store!