FROM CNN's Jack Cafferty:
Drastic measures are being taken to prevent the spread of swine flu in many countries around the world - including Mexico, which is the eye of the swine flu hurricane. But in the U.S. the response has been more muted.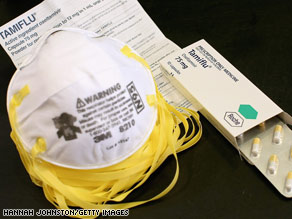 Only 64 cases of swine flu have been diagnosed here so far - and the majority of these people apparently became ill after traveling to Mexico. Compare that to Mexico's 1,600 cases and more than 150 deaths linked to the swine flu.
Newsweek reports that public health officials suggest the virus probably won't hit us as hard as our neighbors to the South. For one thing, the anti-terror training that took place after 9/11 makes American hospitals better prepared to handle a pandemic.
The U.S. also has more resources: more hospitals, facilities for doctors and nurses, better critical care, and with large quantities of drugs that can treat influenza.
Also, the government's declaring a public health emergency should help, because it can act more aggressively. And, if people are freaking out a bit, they're also more likely to wash their hands, get treated, etc., which can all help keep swine flu from spreading.
In this country some schools have closed, others have told kids not to shake hands. Pharmacies in New York reported that paper face masks were selling by the box; while New Mexico set up a swine flu hot line. One Chicago hospital required anyone entering to use a liquid disinfectant.
Here's my question to you: Has the fear of swine flu changed your life in any way?
Interested to know which ones made it on air?
Melissa writes:
I think the media is making it worse than it has to be. It's just the flu like any other. If you cause a general panic just to get ratings, you're going to make it worse. No, it hasn't changed my life. I already do all the suggested things and try to avoid all the media hype about the world ending because of the swine flu.
Brent writes:
Remember SARS? This virus had just as much potential to become a pandemic as the Swine Flu, but it was contained. I'm not the least bit afraid of this newest virus, and I'm in one of the higher risk groups who need to take special care during every flu season.
D. from Atlanta writes:
Unfortunately, yes. We have a trip planned to Cancun in the middle of June to celebrate a friend's 25th wedding anniversary and vow renewal ceremony. However, we're deciding if we are going to cancel the trip or take our chances. According to the CDC, we should not plan any trips to affected areas for the next three months. Personally, I don't think it's worth the risk to go.
Donna from Colorado Springs writes:
No. We all need to keep up with all information available and take ordinary precautions such as hand washing and avoidance of people who seem sick, but my everyday life hasn't changed. Maybe this is all being overblown, as some have said, but we should all be cautious right now until we see how bad it might become.
Sherry from California writes:
Yes, I am one of many who do not have health coverage. I will wear gloves in public markets or anywhere I have to touch something I know has been touched by another person. 35,000 die each year from flu viruses. No crowds for me. I am patient and know how to stay home.
John from Alabama writes:
Jack, I wash my hands more each day. I try and stay out of places where large crowds might gather. I try to sneeze into something other than my hands. I am glad I do not have to give up bacon or ham.
Janet writes:
Yes, I can get a whole seat to myself on the train into work if I sit and oink quietly.