FROM CNN's Jack Cafferty:
Drastic measures are being taken to prevent the spread of swine flu in many countries around the world - including Mexico, which is the eye of the swine flu hurricane. But in the U.S. the response has been more muted.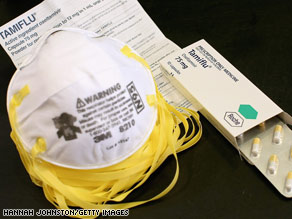 Only 64 cases of swine flu have been diagnosed here so far - and the majority of these people apparently became ill after traveling to Mexico. Compare that to Mexico's 1,600 cases and more than 150 deaths linked to the swine flu.
Newsweek reports that public health officials suggest the virus probably won't hit us as hard as our neighbors to the South. For one thing, the anti-terror training that took place after 9/11 makes American hospitals better prepared to handle a pandemic.
The U.S. also has more resources: more hospitals, facilities for doctors and nurses, better critical care, and with large quantities of drugs that can treat influenza.
Also, the government's declaring a public health emergency should help, because it can act more aggressively. And, if people are freaking out a bit, they're also more likely to wash their hands, get treated, etc., which can all help keep swine flu from spreading.
In this country some schools have closed, others have told kids not to shake hands. Pharmacies in New York reported that paper face masks were selling by the box; while New Mexico set up a swine flu hot line. One Chicago hospital required anyone entering to use a liquid disinfectant.
Here's my question to you: Has the fear of swine flu changed your life in any way?
Interested to know which ones made it on air?