If you have a couple extra coins knocking around in your pocket, you could consider a donation to Alaska Governor Sarah Palin's legal defense fund. The former Republican vice presidential candidate has about $500,000 in legal fees - partly due to investigations into efforts to fire an Alaska state trooper who's her former-brother-in-law.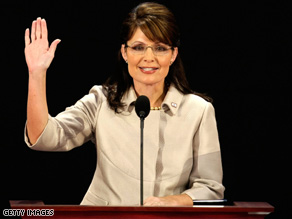 Also, supporters say about a dozen new ethics complaints have been filed against Palin in the last four months. The 'Alaska Fund Trust' says on its website: "For Alaskans, the time has come to end the siege on our government by political tricksters. Enough is enough. With the help of reform-minded advocates from across our nation, we will stand up for what is right."
They add that the fund will "reduce the incentive for mischief by Palin's opponents" and turn back the tide of partisan and personal political attacks.
Donations will be limited to $150, and the fund won't accept money from corporations, lobbyists, foreigners or state contractors. Supporters say the names and contribution amounts of all donors will be made public.
They insist this is one of the "most restrictive and transparent legal funds in history," and compare it to other recent funds - like those for both Clintons and former Alaska Senator Ted Stevens.
Here's my question to you: Would you be inclined to donate to Governor Sarah Palin's legal defense fund?
Interested to know which ones made it on air?
Andy from Vancouver writes:
Let's see here: Palin won't take bailout money that would go to the people of Alaska whom she represents, but she wants everyone to bail her out instead? I don't know who's a bigger idiot: Palin or the people who give her money.
Eric writes:
Jack, buddy, get over it already, your man won. Six months ago! Bush and Palin no longer exist. Obama owns all this mess now. You can't keep digging up Sarah Palin's long-since buried political corpse to prop up as a red herring when people start realizing their child-God is just a man like you and me.
Lola writes:
If it means she will disappear, never to be heard from again! I live in the UK and am so, so sick of hearing her name! What must it be like for Americans?
Frann from California writes:
I've be very inclined to donate to her 'go away and don't come back to the political arena, ever' fund. Likely that fund would be well-supported, but unlikely it could live up to its name.
Dale from Fort Lauderdale writes:
I intend to just because she's been so savagely and unfairly attacked by the media and the left just because she's a conservative. Funny how the media, feminists and the left defend Hillary Clinton (rightfully so) but won't defend Palin the same way because she's conservative.
Elizabeth from Wasilla, Alaska writes:
I live in Wasilla, Alaska and will not contribute one penny to her defense fund. I will contribute generously to anyone running against her in the next election. From what I hear around town, that's the prevailing sentiment.
Tom from California writes:
I'll give the full $150.00, just as soon as she donates to my "Speeding Ticket" fund ($236.75 minimum). You first, Governor.