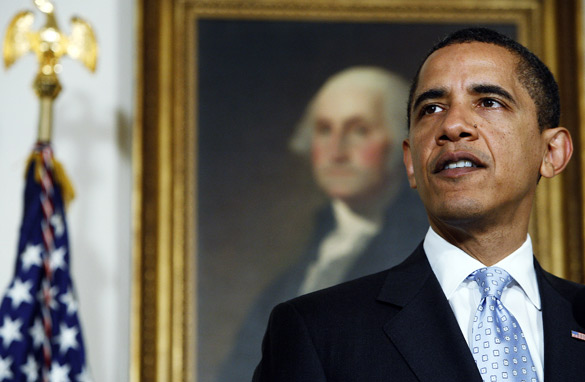 (PHOTO CREDIT: Aude Guerrucci-Pool/Getty Images)
FROM CNN's Jack Cafferty:
The consensus is that President Obama's first 100 days in office have been very successful. But the outlook for the next 100 days may not be nearly as rosy. The president's first three months in office focused, among other things, on the economy, reaching out to world leaders and winding down operations in Iraq while ramping them up in Afghanistan.
But despite job approval ratings of about 65 percent - not exactly chopped liver - there is criticism. Conservatives say President Obama hasn't worked for real bipartisanship, while some Democrats are worried about bailouts of big financial institutions and car companies as well as with his plan to increase troop levels in Afghanistan.
CNN's John King points to three things that could trip up the president in the days to come: First, he's perceived as a liberal, which is often a liability in U.S. politics. Nearly 4 in 10 Americans think Mr. Obama is trying to do too much at once; and if there are major setbacks, the risk is voters will question his leadership and governing skills.
In the next 100 days - look for some new issues to take center stage, including the president's push for health care reform along with energy and environmental proposals. It's yet to be seen if the American public will back Mr. Obama's push for more government intervention in these areas. But if the current poll numbers are any indication, Mr. Obama's honeymoon is far from being over.
Here's my question to you: How are President Obama's second 100 days likely to be different from the first?
Interested to know which ones made it on air?