There's a growing chorus of voices in California who think it's time to rip up the state constitution and start all over. Support for a proposed constitutional convention - once considered nothing more than a gimmick - has been building.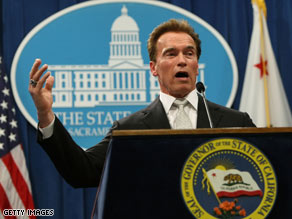 Calif. Gov. Schwarzenegger supports amending his state constitution so government can run more smoothly.
Even Republican Governor Arnold Schwarzenegger says he would back an effort to change the document so the state's government could function more smoothly.
California's constitution - which has been amended more than 500 times - is one of the longest and most complicated in the world. Supporters of a constitutional convention want to put a proposal on the November 2010 ballot that would focus the convention on a few key issues - like budget reform, open primaries, and allowing local governments to collect and spend tax revenues - instead of the state. It would not include controversial social issues like gay marriage.
One supporter insists California needs to change its constitution because the state is in crisis. He points to serious issues with education, the transit network, the water supply and an overflowing prison system.
But critics claim this is all just a ruse to raise taxes; and could open up the constitution to changes driven by special interest groups. One expert says it's reasonable for voters to be scared of the prospect: "Once you open it up, you don't know where it's going to go."
Here's my question to you: What new law would you add to your state's constitution?
Interested to know which ones made it on air?
Tom writes:
Any employer caught employing illegal aliens should have their business confiscated, and should be given automatic one-year jail sentences.
Kristy from Texas writes:
We should allow any dim-witted governor and his group of followers to secede immediately and form their own country. They can call it a "second Texas" if they like. They will not receive any federal funding at all. We wouldn't want them to live a "socialist" nation. However, the governor and those followers will never be allowed on U.S. soil again.
Dennis from North Carolina writes:
Two terms for all elected offices instead of the present system with no limit, which leads to greed and corruption.
Rob from New York writes:
Marriage for all, gay or straight. Enough already. Equal rights for all Americans.
AJ writes:
Persons must prove U.S. citizenship to receive free social services.
Colin from Wisconsin writes:
Hey Jack, If I could add a new law to the Wisconsin State Constitution it would be the legalization of cannabis. Then Wisconsin would become rich from taxes and tourism to our wonderful state.
Lee from Bloomington, Indiana writes:
Jack, Indiana needs to amend its Constitution to allow Sunday liquor purchases. I thought the last 8 years of Republican tragicomedy were bad. The last few months have been worse. I need to buy booze after Republicans appear on the Sunday talk shows!