FROM CNN's Jack Cafferty:
It seems like some Republicans still haven't realized that they lost big-time last November because the American people are sick and tired of their style of politics. And here's Exhibit A: a conservative faction of the Republican National Committee wants the party to brand Democrats as Socialists.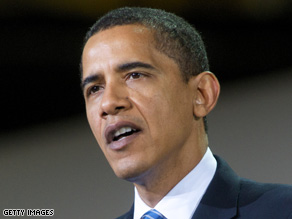 Some RNC members argue Pres. Obama wants to restructure U.S. society upon socialist ideals.
Politico reports RNC member James Bopp, Jr. of Indiana is accusing President Obama of wanting to restructure American society along socialist ideals, saying: "Just as President Reagan's identification of the Soviet Union as the evil 'empire' galvanized opposition to Communism, we hope that the accurate depiction of the Democrats as a Socialist Party will galvanize opposition to their march to Socialism."
16 RNC members agreed to the resolution and are petitioning Chairman Michael Steele to set a special meeting to consider it. An RNC spokesman wouldn't say what Steele thinks about all this, but a memo from earlier this month suggests that while he agrees with hardliners who say the president is leading the country toward socialism, he's probably not going to make it official party policy.
And it's not just Democrats who they're after - Bopp also wanted to criticize the three Republicans who supported the stimulus package: Senators Arlen Specter, Olympia Snowe and Susan Collins. But that effort was apparently watered down - the resolution instead praises those in the party who have opposed bailouts and Democratic spending plans.
Several Republicans threw around the "socialist" label during last year's campaign; and more recently Congressman Spencer Bachus of Alabama claimed there were 17 socialists in Congress. None of this seems like the best way for the party to attract voters.
Here's my question to you: Is it a mistake for some Republicans to try and brand Democrats as 'Socialists'?
Interested to know which ones made it on air?
Linda from Kentucky writes:
This is precisely why I have no faith at all in the Republican Party. They keep trying to appeal to their knuckle-dragging base. I notice Meghan McCain making the rounds, trying to yank the party back to some semblance of reason. More power to her. The rest of them are idiots.
Bruce from St. Paul, Minnesota writes:
There are multiple problems with this strategy. First, people do not associate socialism with any particular evil regime. Many don't even know what it means. Others think we could use a little socialism around here. Secondly, they are using it as a defense against healthcare reform and a more fair tax system without offering any intelligent alternative.
Reed from Washington writes:
Politically, this approach will not pay off for the GOP. It can only serve to rally a portion of the base that doesn't require it, while alienating moderate Republicans such as myself.
Kerry writes:
It is much, much worse than just the perceived "socialism." My guess is they are now headed (thanks to Obama) on a road to fascism and/or communism!
Charles from Oregon writes:
Jack, The Republicans are using the labels Socialist, Fascist, etc., to raise fear in the hearts of Americans. To them it's like cooking spaghetti: if it sticks, then it's done and ready to be used to fool the people of the U.S. Unfortunately, they're showing how trivial they are because they have no new ideas of their own.
Scott writes:
The Republicans are wrong; there are way more than 17 Socialists in Congress.
Kim from Blair, Nebraska writes:
Probably, but give 'em enough rope and they will hang themselves. I believe they almost have enough already.