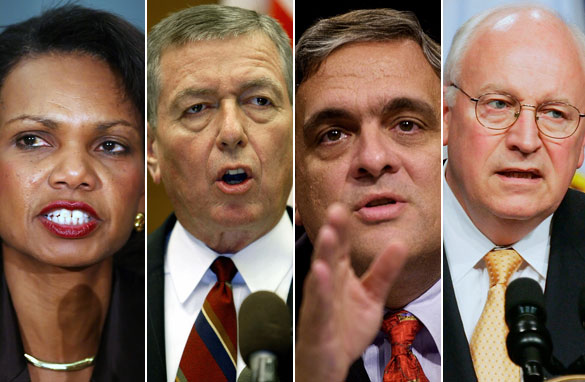 Bush Administration officials such as Nat'l. Security Adviser Condoleezza Rice, Attorney Gen. John Ashcroft, CIA Dir. George Tenet, and VP Dick Cheney approved the use of harsh interrogation methods.(PHOTO CREDIT: GETTY IMAGES)
FROM CNN's Jack Cafferty:
The torture debate continues to heat up in Washington; with President Obama and top Senate Democrats pushing back against the creation of an independent commission to investigate the Bush administration's approval of so-called enhanced interrogation techniques.
Some Democrats like House Speaker Nancy Pelosi have been calling for an independent panel - like the 9/11 commission - to look into waterboarding and other harsh techniques.
But the president says a special inquiry would take away time and energy from his policy agenda, and could end up being a distraction looking back on the Bush years. Senate Majority Leader Harry Reid backed the president, saying everyone should wait for the results of an investigation by the Senate Intelligence Committee due out late this year.
Yet it's unclear how much of that panel's findings will ever be made public, since this is an investigation dealing mostly with classified information.
Meanwhile a new Senate report shows that top Bush administration officials approved the use of waterboarding as early as 2002 and 2003 - the harsh methods were approved by the likes of then National Security Adviser Condoleezza Rice, Attorney General John Ashcroft, CIA Director George Tenet, and Vice President Dick Cheney. Maybe that's one reason we're hearing so much from Cheney these days.
And expect for more of this stuff to keep dripping out... The ACLU says that the Defense Department will soon release "a substantial number" of photos showing abuse of prisoners in Iraq and Afghanistan; these could prove that prisoner abuse during the Bush administration was widespread and reached far beyond Abu Ghraib.
Here's my question to you: Will Bush administration officials who authorized and oversaw the enhanced interrogation program ever be prosecuted?
Interested to know which ones made it on air?