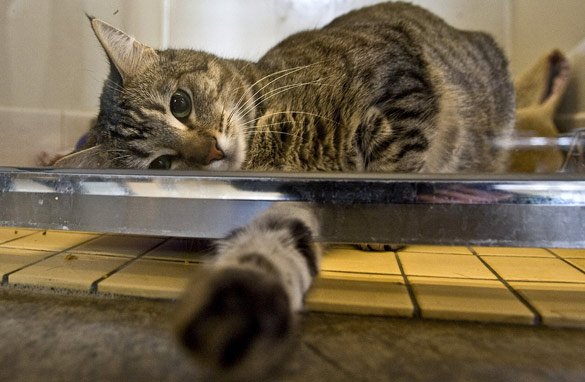 Lola the cat reaches under her enclosure at the Sacramento SPCA. Lola was surrendered to the shelter back in February when her owner's home was foreclosed upon. (PHOTO CREDIT: David Paul Morris/AFP/GETTY IMAGES)
FROM CNN's Jack Cafferty:
With all the stories about the bad economy, here's something you probably haven't heard about:
The Detroit News reports an unprecedented number of abandoned cats and dogs being left behind in foreclosed homes, in dumpsters and in parking lots all around the city. Meanwhile more people who bring their pets to shelters are saying they've lost their jobs and can't afford to care for them. Or, after losing their homes, they're moving to apartments that don't allow pets.
And it's not just Michigan. The American Humane Association estimates that with 8,000 houses going into foreclosure every day, between 15,000 and 26,000 animals are in danger of losing their homes daily.
A recent national survey by petfinder.com finds that 84 percent of shelters and rescue groups are caring for more pets because of the economy; and as you might expect, 37 percent of them report seeing a decrease in pet adoptions in the last year.
Some shelters are trying to help people keep their pets by creating pet food assistance programs. There are groups donating pet food to seniors - some of whom had been feeding delivered meals meant for them to their pets.
Animal groups encourage people who have lost their homes to take time to plan for their pet; to try and find an apartment that will accept animals and not just leave them behind to fend for themselves. They can't.
Here's my question to you: In light of the recession, what can be done about the growing number of abandoned pets?
Interested to know which ones made it on air?
Pat writes:
It's time for all of us to make sacrifices. We've accepted two pets we didn't really want from people losing their ability to keep them, with the understanding that they are welcome to have them back or come visit at any time. Otherwise, we're taking 100% responsibility. Landlords can afford to be a bit less "strict" on their pet policies, and treat people and their fuzzy friends on a case-by-case basis.
Merriett writes:
If you are financially able to support a pet, please consider adopting one of these abandoned animals at a shelter rather than purchasing an expensive purebred. Likewise, if you do not have a strong financial base, please reconsider before purchasing any pets on impulse.
Jim writes:
I don't have a problem with responsible pet owners who take their little charges to an animal shelter when they can no longer properly care for them. However, those that leave them in abandoned homes, dumpsters and parking lots without food or water ought to be euthanized along with other sick and hopeless mammals. And this is from a guy who thinks PETA is a bunch of nut cases.
Peter from Florida writes:
I see this problem first-hand as a volunteer at the Orlando SPCA. The many people out there in the market for a pet need to know that these defenseless animals in shelters are like any other animals that you'll find in your local pet stores or from a breeder. Whether a purebred, mixed breed, or just your typical, run-of-the-mill dog or cat, they are beautiful animals, capable of providing unconditional love, and they are the unspoken victims of this recession. Go adopt and save a life!
Rob writes:
Jack, This is something that I never thought of. It breaks my heart. Forget bailing out GM – let's take care of the cats and the dogs. GM got themselves into this mess through their own greed and incompetence. These animals did nothing wrong to be left in dumpsters and in shelters!