FROM CNN's Jack Cafferty:
17-year-old girls will soon be able to buy the so-called morning-after pill without a doctor's prescription - and for that matter without their parents' knowledge or permission. The emergency contraceptive is currently available to women 18 and older, but the FDA says it will soon be available to 17-year-olds as well.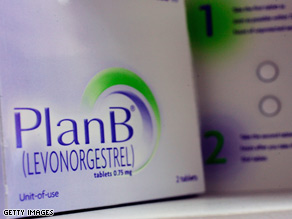 Plan B, also called the morning-after pill, is intended to prevent pregnancy after unprotected sex.
The agency decided to accept a recent ruling from a federal judge that lifts Bush-era restrictions limiting over-the-counter sales of Plan B to women. The judge also directed the FDA to determine whether all age restrictions should be lifted.
Plan B - or the morning after pill - is emergency contraception that contains a high dose of birth control drugs. It's a series of two pills; and if taken within 72 hours of unprotected sex, can reduce the chances of a pregnancy by almost 90 percent.
Women's groups say the decision is long overdue; and "a strong statement to American women that their health comes before politics." Supporters also say the pill is safe and effective and could help reduce the number of abortions and unwanted pregnancies.
But critics - many of them conservatives - say parents should be furious at this decision as it steps on their rights. Some also say the drug - which they liken to an abortion pill - will encourage promiscuity.
The debate over the morning-after pill has been going on for years. Critics of the FDA say the agency has refused to listen to scientists who have recommended that the drug be made available with no restrictions.
Here's my question to you: Should 17-year-olds be able to get the "morning-after" pill without a doctor's prescription?
Interested to know which ones made it on air?
Gregory from Washington writes:
Yep. The morning-after pill is a next-best-thing kind of contraception, and regardless of what religious types might tell you, the science of the matter is that conception and implantation has not yet occurred by the time the morning after rolls around. Equating OTC morning-after pills with drive-through abortions, as detractors are bound to do, is just plain incorrect.
Saddened reader from New Jersey writes:
Yes! It's better not to have a pregnant 17-year-old who isn't able to care for a child resulting from an unplanned pregnancy. We can't stop 17-year olds from having sex, but hopefully if they don't become pregnant, they'll stay in school and become contributing members of society, rather than unwed mothers living on welfare.
Mike writes:
Absolutely not! Conservatives are right; I am outraged at this as a parent! What's next? This is going to make it easier for kids to sneak and hide the things they are doing wrong. Maybe we should take away accountability all together and just load our kids' book bags up with condoms and KY jelly… What a liberal joke and mockery of morality! This country's decision makers concern me.
Jill writes:
Yes! As a current high school teacher, I'm here to tell you that 17 year-olds are having sex, regardless of what their parents want to believe. Unfortunately, I have seen many promising students, male and female, lives' derailed by accidental pregnancies… Making this available only acknowledges a reality that teens are faced on a daily basis.
H. from Arizona writes:
Absolutely not. Where are the parents? This country has become nothing more than a sex-driven, drug-driven society. Where are the morals?
Tom from Texas writes:
My great-great-grandmother gave birth out of wedlock at age 17 in 1866. She may have liked the option rather than telling her German-born parents. That must have been an interesting discussion.