FROM CNN's Jack Cafferty:
President Obama's national intelligence director says that Bush-era interrogation techniques - which many call torture - may have worked. Dennis Blair wrote in an internal memo: "High-value information came from interrogations in which those methods were used and provided a deeper understanding of the al Qaeda organization that was attacking this country."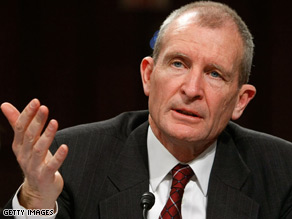 Nat'l. Intelligence Director David Blair says interrogation techniques have hurt America's image; and the damage they've done outweighs any benefits.
Blair added that he'd like to think he wouldn't have approved such methods in the past, but doesn't fault the people who made the decisions at the time and will defend those who carried out orders they were given.
He says the information gathered was valuable in some cases, but there's no way of knowing whether they could have found out the same things using other methods. Blair says the bottom line is that these techniques have hurt America's image around the world... and the damage they've done has outweighed any benefits.
Former Bush officials have argued the interrogations were an important part of the war on terror. Former CIA director Michael Hayden says the use of these techniques "made us safer." Former Vice President Dick Cheney agrees and says he's asked the CIA to declassify memos showing what was gained from harsh interrogations.
Just yesterday, President Obama left open the possibility of criminal prosecution for former Bush administration officials who authorized this stuff. But he continues to insist that CIA officers who carried out the interrogations shouldn't be prosecuted.
Meanwhile a new Senate report shows senior Bush officials authorized aggressive interrogation techniques - like waterboarding and forced nudity - despite concerns from military psychologists and lawyers.
Here's my question to you: If so-called "enhanced interrogation" techniques yielded results, does that make them okay to use?
Interested to know which ones made it on air?
Richard writes:
Waterboarding was a war crime punishable by death to the Japanese who used the interrogation technique during World War II. It was also an atrocity when used on Cambodian civilians after the Vietnam War. Dick Cheney should be waterboarded just to prove that lessons from history are not his to exempt.
Frank from Cape Coral, Florida writes:
Yes, yes, oh yes, let me think, yes. If it saves one American's life, let me repeat myself, yes.
John from Knoxville, Tennessee writes:
Burning down the house to kill termites works, too, but it may not be the best approach to pest control. Blair himself admits that other methods may have yielded the same info. Torture is never justified, no matter what the result might be.
Tony from Houston writes:
When dealing with terrorists and their heinous acts, I think that there should be no limit on what we need to do to get the information to defend ourselves. If terrorists are willing to kill themselves and innocent women and children, then they open the door to any tactics we deem necessary.
Thom from Negaunee, Michigan writes:
That is the exact thinking we have condemned other countries for. That is the exact difference between us and those whom we consider uncivilized and void of human rights… If we can "justify" torture, then we have lost all that we have been.
Mark writes:
I can read all the responses now. We'll all ride our big, white horse decrying these interrogation methods. But then, sometime in the future, when there is another terrorist attack, everyone will wonder why the government didn't do more to stop it.
Mickey writes:
No. My grandparents who arrived through Ellis Island would be rolling over in their graves if they knew that the beacon of freedom they sought had adopted the practices of the regimes they fled.