FROM CNN's Jack Cafferty:
A week from today will mark President Barack Obama's 100th day in office. And whether you agree with him or not - it's fair to say that the president has been one busy guy. According to one report - a top White House aide says of the 100-day marker: "This isn't Biblical. You don't do 100 days and rest," but acknowledges that President Obama's first 100 days have been the most productive since FDR's.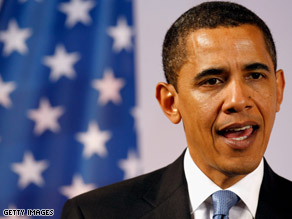 First 100 Days: What has been President Obama's greatest accomplishment?
Here's only some of what's been on the president's plate:
– When it comes to the economy: the passage of the $787 billion economic stimulus bill, the bank bailout plan and housing recovery measures.
– Setting a fixed timetable for withdrawal of combat troops from Iraq and ordering an additional 21,000 troops to Afghanistan.
– Ordering the closing of Guantanamo Bay prison and ending the use of so-called "enhanced interrogation techniques."
– Lifting President Bush's restrictions on embryonic stem cell research.
– Meeting with leaders around the world, promising a new era of American leadership and cooperation.
And there's no indication Mr. Obama plans to slow down any time soon. The White House often speaks of his top goals of reviving the economy, health care and energy. And then there's education, immigration, tax reform. and on and on...
But some wonder if by trying to do so much, the president could wind up accomplishing little.
Here's my question to you: As he prepares to mark his first 100 days in office, what has been President Obama's greatest accomplishment?
Tune in to the Situation Room at 4pm to see if Jack reads your answer on air.
And, we love to know where you're writing from, so please include your city and state with your comment.
Interested to know which ones made it on air?